One of our favorite easy meatless meals is baked potatoes. And although there are a ton of different ways you could top baked potatoes, we almost always have the exact same toppings. That makes it really easy to keep the ingredients on hand, so we can add this meal to our menu plan any time.
And I have to say, ever since I got the Instant Pot, baked potato night became way easier. Sure, baking potatoes in the oven isn't that hard, but it does take awhile. They're done so fast in the ippy! It's just another way my Instant Pot makes my life easier, that's for sure.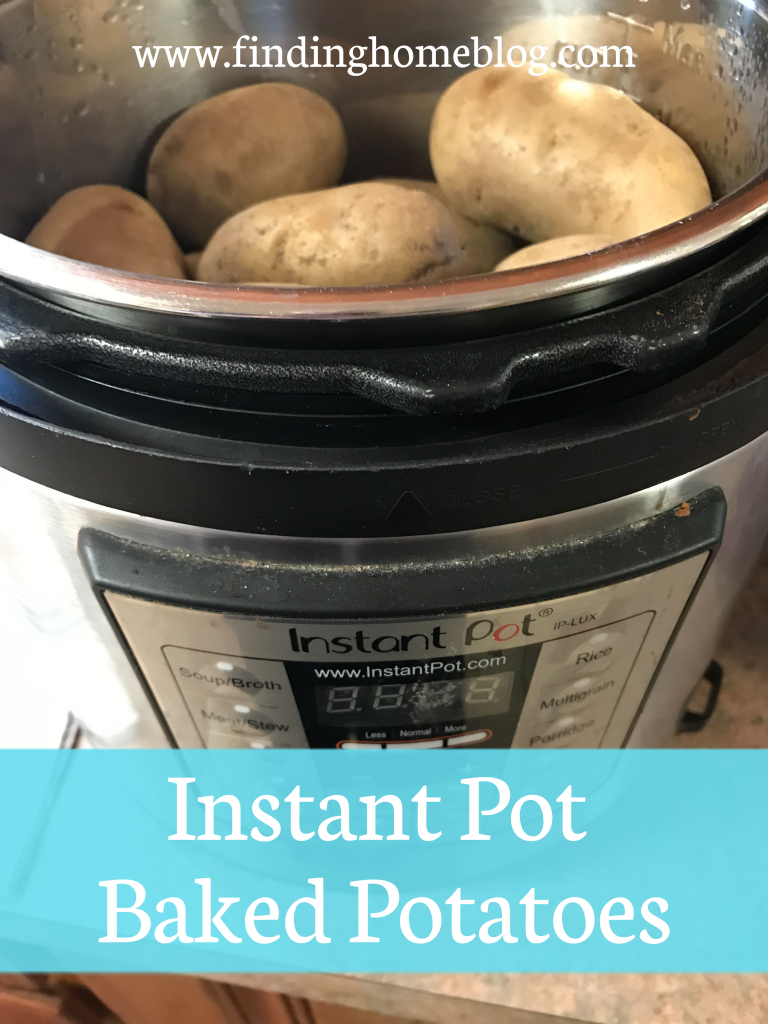 To cook potatoes in the Instant Pot, you want to have potatoes that are all about the same size. From there you can figure out about how long they'll take. To get fully baked potatoes, you'll need anywhere from 7-15 minutes of pressure cooking. If you have tiny potatoes, they'll only take 7. If you have the mammoth bakers that are almost a pound each? You'll need the full 15. If you have potatoes that are a bunch of different sizes, you can always cut the biggest ones in half and go with the shorter cooking time.
We buy our potatoes 10 pounds at a time, so I can almost always find several that are the same size, but it's definitely something to be aware of if you're working with less.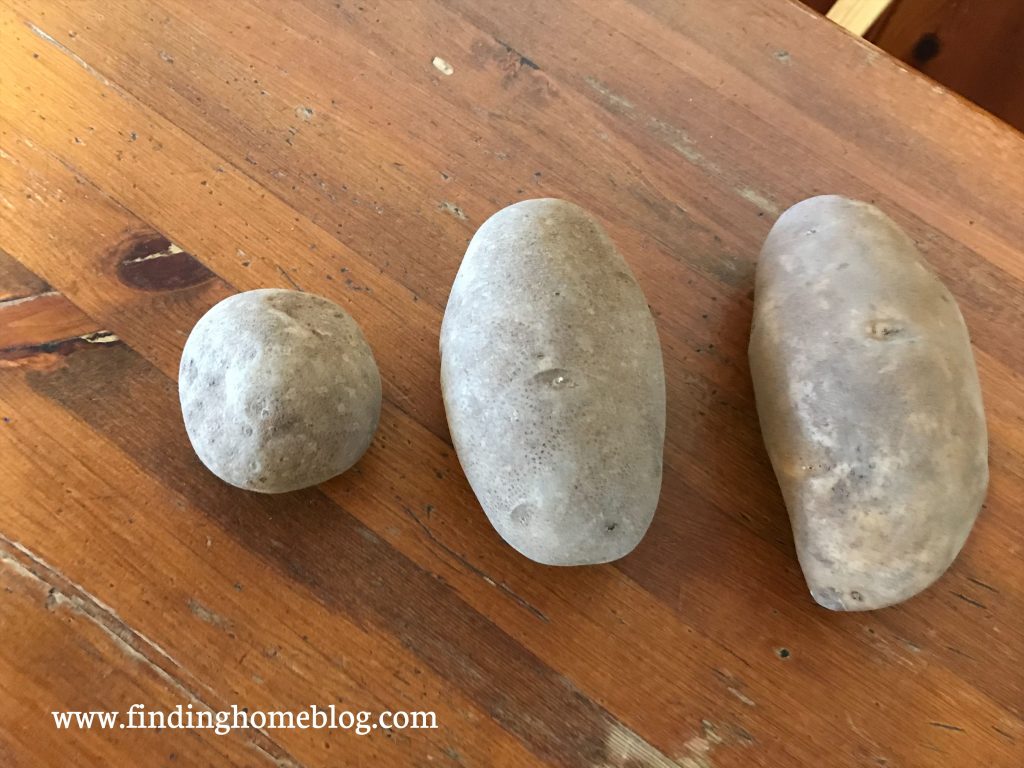 Instant Pot Baked Potatoes
(method)
Wash all of your potatoes. Place 1 cup of water and the trivet in the bottom of your Instant Pot and layer the potatoes on top. Close and seal the lid, and cook on manual for 7-15 minutes, depending on the size of the potatoes, followed by a quick pressure release. Prick with a fork, and if they aren't quite done to your liking, cook for 1-2 more minutes. (It'll come to pressure fast.)
Our Favorite Baked Potato Toppings
We always put the same toppings on our baked potatoes. I use the following:
1 onion, chopped
1 green pepper, chopped
8 oz. mushrooms, sliced
about 1 cup frozen chopped broccoli
about 1 cup frozen peas
4 oz. shredded cheddar cheese
ranch or sour cream drizzled on top
I heat a bit of olive oil in a big skillet, and I sauté the onion and pepper for a few minutes, until they start to soften. Then I add the mushrooms, and cook until they release their liquid, stirring occasionally. I throw the frozen veggies on top and stir around for a couple minutes until they're heated through. The whole thing takes about 12 minutes total. We add the cheese and ranch or sour cream at the table.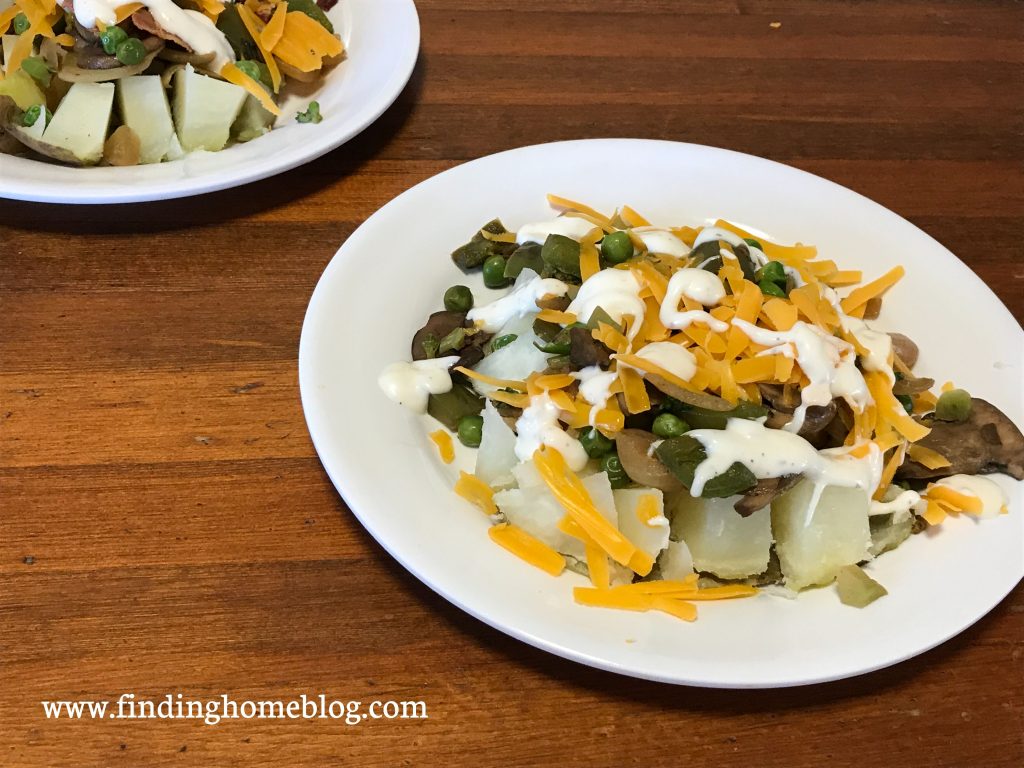 We also occasionally add ham or bacon to this meal if we have some cooked and extra, but it really doesn't need that. That's just a bonus.
I also usually throw a couple extra potatoes in the Instant Pot so we can chop them up to have with eggs for a quick and filling breakfast the next day. Or I'll use them for potato pizza. It's nearly zero extra work for a prepped ingredient, which I love.
I know some people like a potato with sour cream and chives, or chili, or taco meat, but over here it's all about the veggies and cheese. What do you like to put on your baked potato?