Sometimes it's hard to convince kids to eat vegetables.  Actually, sometimes it's hard to convince adults that they want to eat vegetables!  But I always feel a little leery about hiding vegetables in food, since I want to teach my kids to appreciate how vegetables taste and what they do for our bodies.  Hiding them just seems to defeat the purpose.
That being said, I also want to occasionally eat a meal that no one whines about.  And I knew that I could potentially get that with spaghetti.  After all, Hannah still talks about the spaghetti she had at Grandma and Grandpa's house while we were on a trip.  Guys, that was a couple years ago, and I promise, it wasn't anything super fancy.
So if she's that impressed by spaghetti, let's pump it up with vegetables but still make it kid-friendly.
You see, I've made veggie spaghetti before.  Lots of times, in fact.  But the kids didn't like it.  And to be honest, it wasn't my favorite either.  It wasn't bad.  It was just…okay.  It had plenty of vegetables, but it didn't taste quite like spaghetti sauce from a jar.
But this spaghetti sauce?  It's saucy. You'd think that would be a duh! moment, but my previous veggie spaghetti was not very saucy.  The addition of the big can of crushed tomatoes did the trick.
This sauce is also full of veggies, but they're mostly in small pieces and while the kids know they're there, it's not a dealbreaker. And it's a filling meal whether you add meat or not, which is something I always appreciate (and my grocery budget does too!).
Eat Your Veggies Spaghetti Sauce
Serves 8
Ingredients:
2 Tbsp. extra virgin olive oil
1 onion, chopped
2 celery stalks, chopped
2 carrots, chopped
3-4 cloves garlic, minced
4 oz. mushrooms, chopped
14.5 oz. can diced tomatoes
28 oz. can crushed tomatoes
1 tsp. Italian seasoning
3/4 tsp. salt
1/4 tsp. black pepper
1-2 cups spinach, chopped (optional)
Directions:
Heat olive oil in a large skillet over medium heat.  Sauté onions, celery, carrots, garlic, and mushrooms for 15 minutes, covered, stirring occasionally.
Add tomatoes and seasonings.  Reduce heat to low and simmer for 10-15 minutes.  If adding spinach, stir into sauce and cover, cooking for 1-2 minutes until slightly wilted.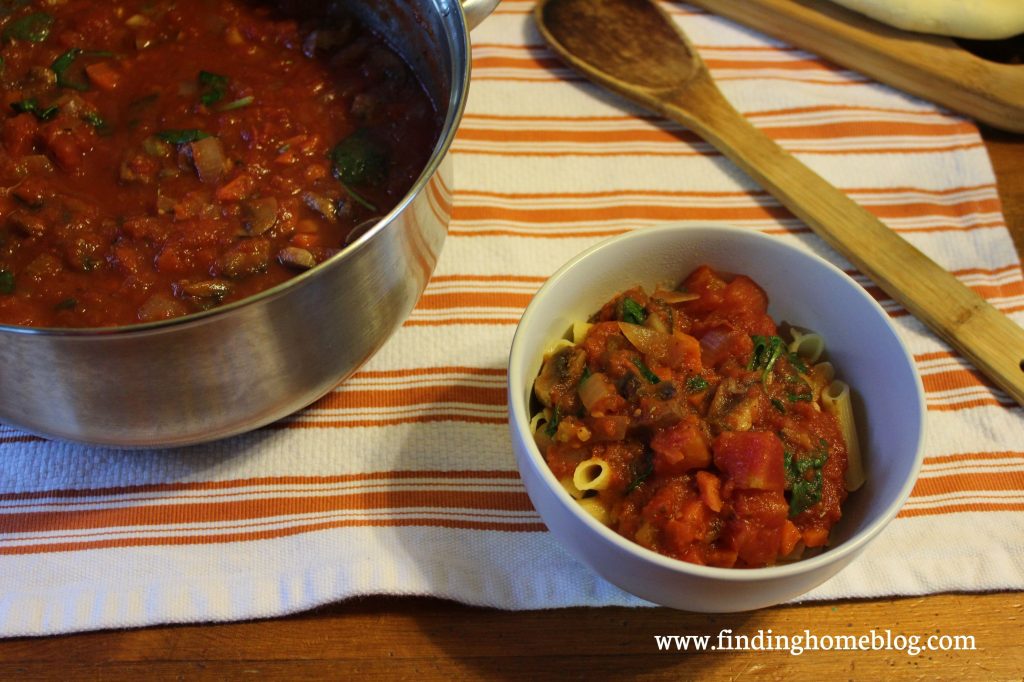 You can serve this over standard spaghetti noodles, regular or gluten free.  Or if you have a billion children and don't want to chop up spaghetti noodles for the fourth bowl in a row, just use penne or rotini or some other fun smaller noodle.  It still works.
If you're feeling super-veggie-rific, or you're on a Whole 30, serve over spaghetti squash (learn how to cook a spaghetti squash in this post).  And yes, I just made that term up, but go with it.
If you want meat, add some meatballs, or ground sausage, or ground beef.  You really can't go wrong with this sauce as your base!  And you'll feel good about all the veggies you're getting in one meal.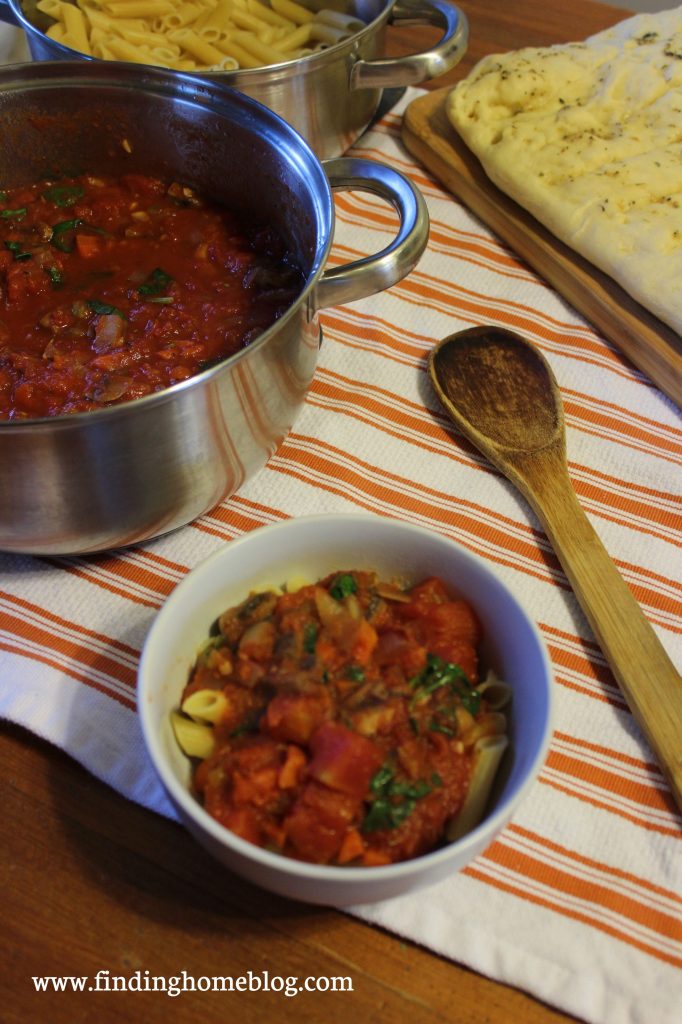 One of the keys for getting kids to actually eat this spaghetti sauce is to chop the veggies up pretty small.  That way they mix into the sauce pretty well, but you don't have to blend it using an immersion blender and lose them completely.  Because if the point is to get kids to eat their veggies willingly, it helps to know that they're there.
How do you get smallish veggie pieces without spending hours chopping?  A food chopper.  I got this one on the recommendation of a friend, and it saves so much time.  At first I was skeptical, because I do fine with a knife and a cutting board, thank you very much, but I can throw veggie chunks in there, pull the handle a couple times, and they're tiny.  It's pretty awesome.  And it for real cuts my veggie prep time at least in half.
Whether your kids love veggies or not, spaghetti sauce can be a great way to introduce a new flavor or texture in the realm of something familiar.  And kids or no kids, it's still a great way to get a bunch of veggies into your own diet in a warm and hearty meal.
Do your kids love veggies or push them around the plate?
Disclosure: Some of the links in this post are affiliate links.  If you make a purchase through these links, I receive a bit of a commission at no additional charge to you.