Confession time: I haven't actually been to an Olive Garden restaurant in at least 5 years. Probably more. Mostly pasta and bread are not too friendly to the gluten free crowd.
But when we used to go, one of my favorite things was to get the unlimited soup and salad combo, and have plenty of their Zuppa Toscana soup as my main course.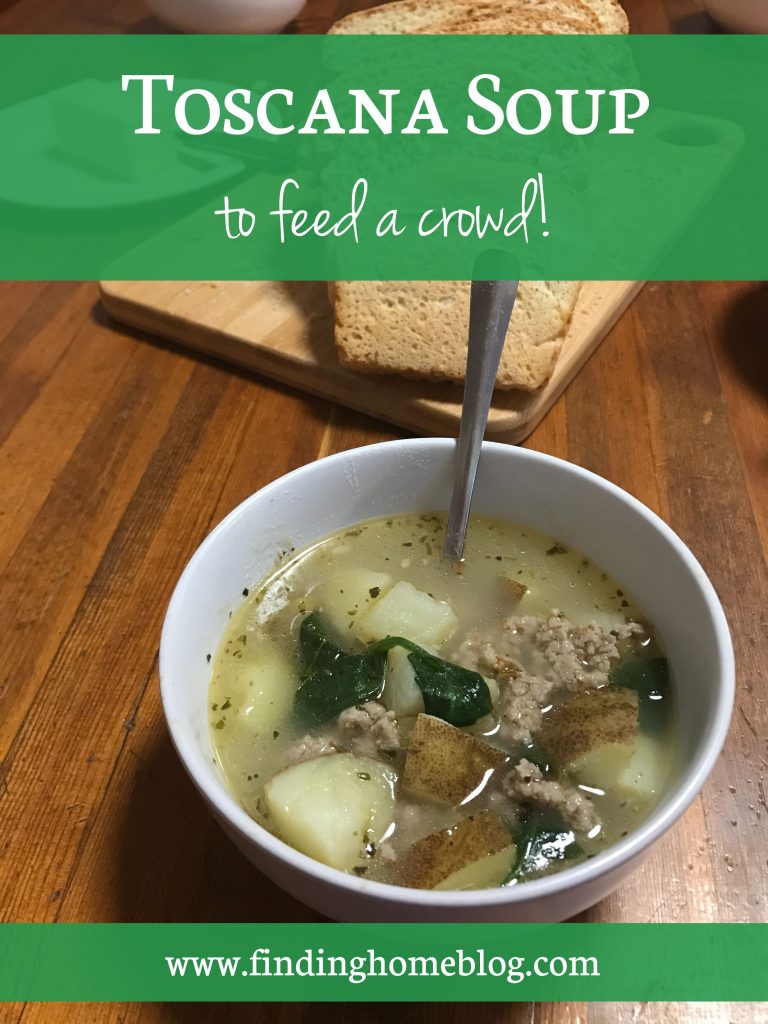 There are a billion copycat recipes out there for this soup, but I'm still going to share how I make mine, because I stretch it to feed our family of 7 (plus seconds and thirds), and who doesn't need a big pot of delicious but frugal soup in their lives?
Toscana Soup
Serves 8
Ingredients
1 lb. ground Italian sausage
3 cloves garlic, minced
10-12 medium russet potatoes, washed and chopped
8-10 cups chicken broth (how to make your own)
1 tsp. salt
1/4-1/2 tsp. red pepper flakes
3 cups spinach
Directions
In large stockpot, cook sausage over medium heat. Add garlic cloves, and saute for 1-2 minutes, until fragrant.
Add chopped potatoes, broth, and seasonings.
Simmer over medium heat until potatoes are cooked through, about 20 minutes.
Add spinach, and cook until wilted, 1-2 minutes.
Note: A lot of toscana soup recipes have cream or some sort of milk. We actually like this soup better as is, but you can definitely add in a little bit of dairy to make it creamier if that's your preference – just stir it in with the spinach. It's totally not necessary though!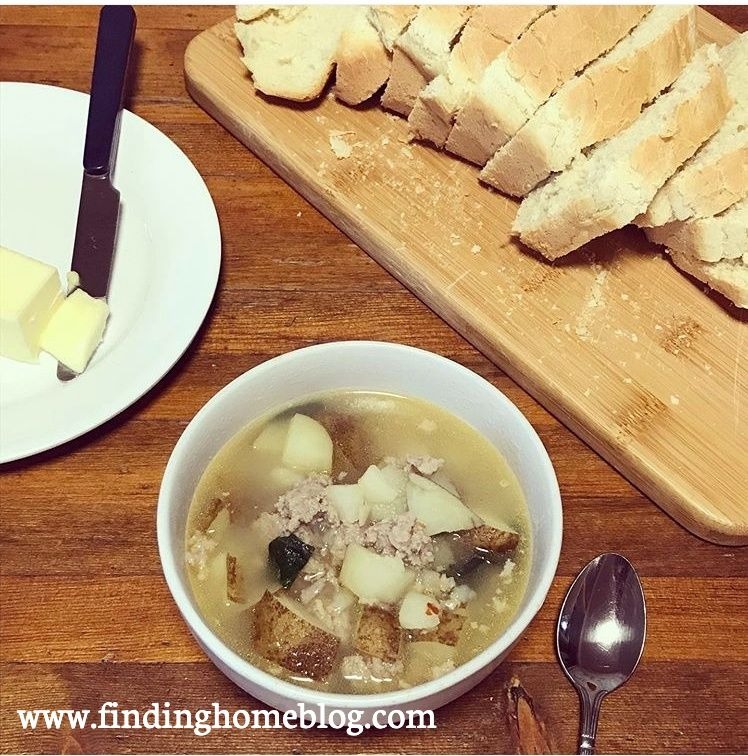 Here's where you can make this recipe stretch. The listed amounts are what I usually make, and it feeds all of us, plus a few people going back for more. Sometimes there's even a portion left over for lunch the next day. (I do also serve this with a loaf of homemade bread pretty much every time, and that is also completely demolished by my hungry beasts).
If I feel like having more leftover for future lunches, I add more potatoes. Then when I'm adding broth, I just keep pouring until the potatoes are covered. I also increase the salt and garlic, but I keep the sausage amount the same. So there's plenty of flavor there, but it stretches to feed more people without adding much more of an expense.
Potatoes are cheap. Meat is not as cheap.
This is a general rule I follow for stretching a lot of meals. Increase the veggies, the starches, the seasonings, but maybe not the meat. Which more inexpensive ingredients can you add more of without sacrificing flavor? It's not a perfect formula, but most of the time you can increase recipe portions without as much increase in cost. #largefamilyhacks
Do you automatically double all the ingredients if you're making a recipe, or do you play around with it like I do?