Last week, we were gone for three days.  Jesse had a pastors' conference and the rest of us tagged along.  It's an annual trip, and it's always fun to see old friends and visit places we used to call home.  But it can be really expensive and not so healthy to eat at restaurants for every single meal while we're gone!  Here's how we make it work.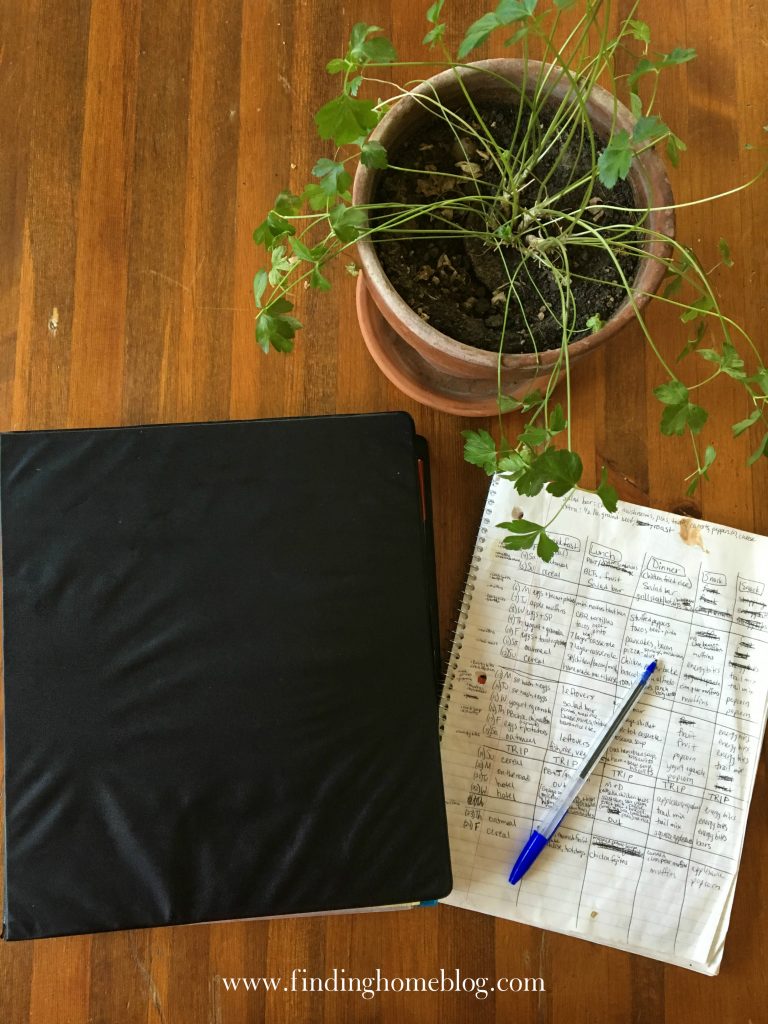 Plan ahead of time.  This is the number one tip that makes the rest of this possible.  A few weeks before our trip, when I was doing our menu plan and big grocery shopping for the month, I also made a separate plan for our meals and snacks on our trip.
Use the hotel's free breakfast.  Usually we stay at a hotel that offers a free breakfast, but I still have to go check the reviews or call and make sure they'll have gluten free food the girls can eat, and offer more than just donuts and coffee for the rest of us.  Most hotels are pretty good nowadays, but still check!  If a free breakfast isn't an option, you can always make a batch of muffins or granola to bring along.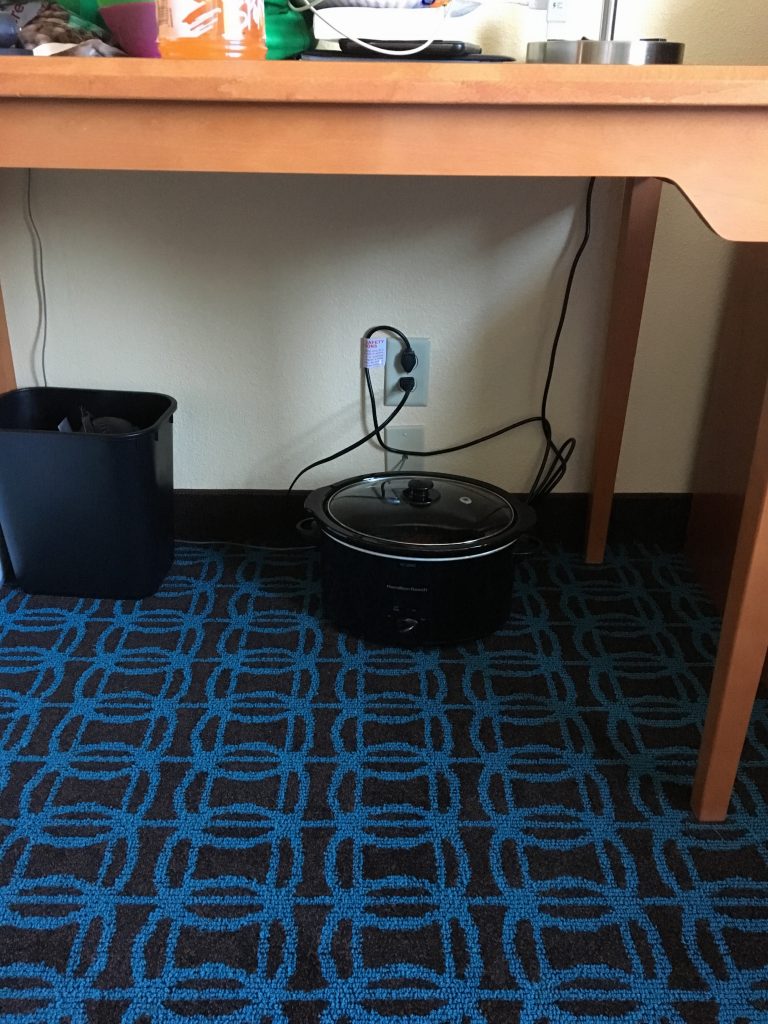 Use your crockpot.  Obviously you won't have access to a full kitchen while you're on vacation (unless you're staying in an extended stay hotel or a house), but you can still use smaller appliances in your room.  I generally stick with the crockpot, because I know it best, but an electric griddle or a George Foreman grill would also probably work.  (Depending on the outlets in the hotel room, you may have to get creative with your placement, or bring an extension cord.)
I like to plan one crockpot meal per day that we're traveling (aside from the first day, because we usually aren't there and checked into the hotel in time to cook anything).  These are all meals we've had many times that are easy to make.  Some of our favorite travel meals include:
Beef and Broccoli.  I'll add sliced carrots to this one as well.  Rice is iffy, but we've gotten a serving of white rice from a nearby Chinese restaurant, or a microwaveable instant rice in the past.  Or you could always just go without the rice.
Easy Canned Chili.  2-3 cans of pinto or kidney beans, 2-3 cans of diced tomatoes, a packet of taco seasoning (or a container of homemade), on low all day.  Don't forget to pack your can opener!  You can also make a double batch of this one day, and cook baked potatoes in the crockpot the next day.  Eat chili, then eat chili-topped baked potatoes.  Two meals for the price of one!
Salsa Chicken Nachos or Taco Bar.  1.5 lbs. of chicken breasts, 16oz. jar of salsa, a packet of taco seasoning (or a container of homemade), on low all day or on high for 4-5 hours.  Shred the chicken, and serve on tortillas or chips with all the taco fixings.
The Walmart Deli Lunch.  Go to the nearest grocery store, and pick up some lunch meat, cheese, and a package of rolls or bread (or crackers, or chips, or…).  Add some fresh fruit and enjoy a snack-y lunch that's much cheaper than eating out.  We fed 7 people for about $13 this way.
If I'm bringing along a pre-made meal in a bag, I'll freeze it ahead of time.  It will thaw along the way, but then I can stick it in the hotel refrigerator or directly into the crockpot when we get there.  I'll either put several of these in an insulated bag together, or pack a small cooler, depending on the trip.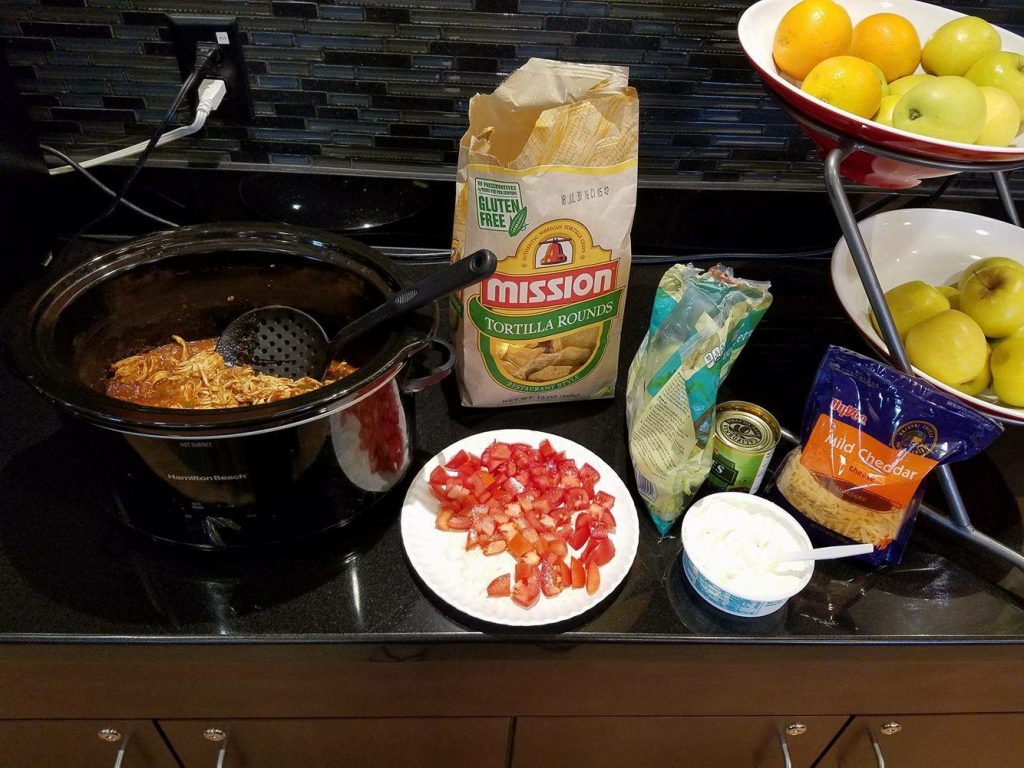 Don't forget snacks!  We like to buy a few "treat" snacks for the kids, such as gluten-free granola bars, trail mix, and squeeze applesauces, which we don't normally purchase, but which will still be cheaper and healthier than finding a restaurant.  Sometimes we will wait and purchase these at our destination, but since they're shelf-stable, I like to go ahead and get them beforehand if I can.  Hotels will also sometimes have fresh fruit or yogurt or other single serve options at breakfast that you can use.
I also like to make at least one snack to bring along, like energy bites, granola, or some sort of muffins or bars.
Go to the grocery store.  It's rare for us to travel  somewhere that doesn't have some sort of grocery store.  So I'll make a list of the perishable ingredients I need for my crockpot recipes, and any snacks we didn't get yet, and go shopping once we've arrived.  This takes up less space while we're traveling, and I also don't have to worry as much about packing a cooler.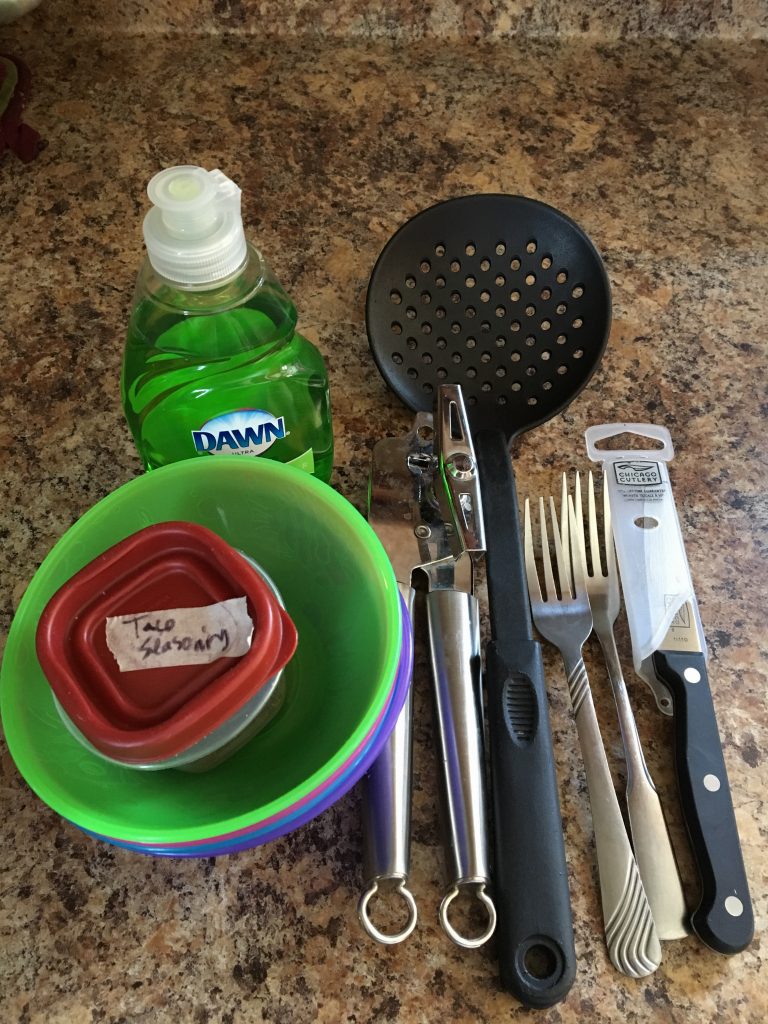 Bring all the extras.  I mentioned a can opener above, but don't forget things like a serving spoon, a sharp knife, small bowls for dishing out snacks to kids, paper plates or bowls for serving meals, silverware, and a container for any leftovers to stick in the fridge.  It's no fun to make food, only to discover you have no way to eat it!  Bring a small container of dish soap as well so you can clean up in the hotel sink when you're finished eating.  I make notes of all of these on my packing list so I don't forget anything.
After all of these things, we usually still end up eating out for one meal each day.  But since we have the rest of our food taken care of, it's much easier to enjoy that one meal, knowing that it's within our budget and we've filled our bellies with semi-homemade food too.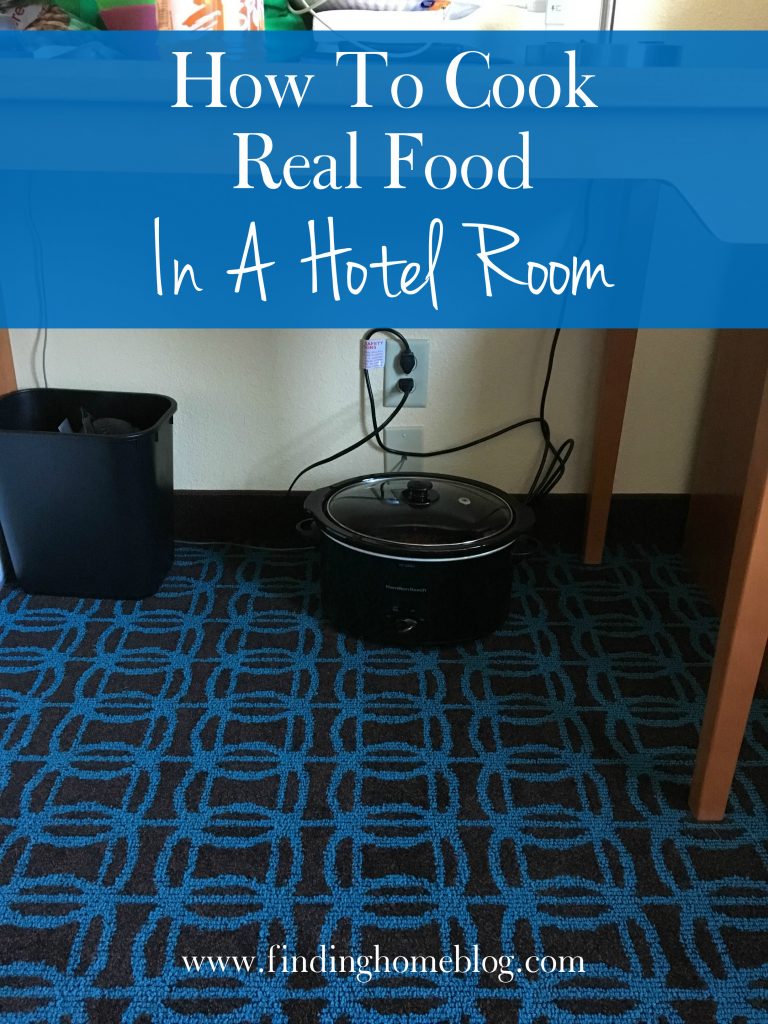 Disclosure: Some of the links in this post are affiliate links.  If you make a purchase through these links, I receive a bit of a commission at no additional charge to you.  Thank you for your support!
You may also like: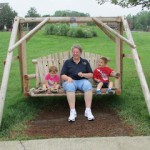 Travel Tips For Families With Young Children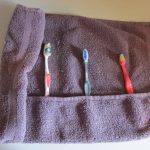 6 More Travel Tips For Families With Young Children