December is already full of stuff, so it can be easy to cringe when you see a list of 25 things to do, one for each day leading up to Christmas. But I promise this is not that list! These are super easy, mostly no prep things to do in December. Things like watching movies and making treats you were going to make anyways. But somehow, having a special "thing" each day brings my kids joy, and maybe it will for your family too.
I don't want my December to be full of things that I'm doing just because I have to. But the things that we were going to do anyways? This helps me keep track of them, and it's a way for the kids to get excited about Christmas-y things that I've loved since I was a little kid too.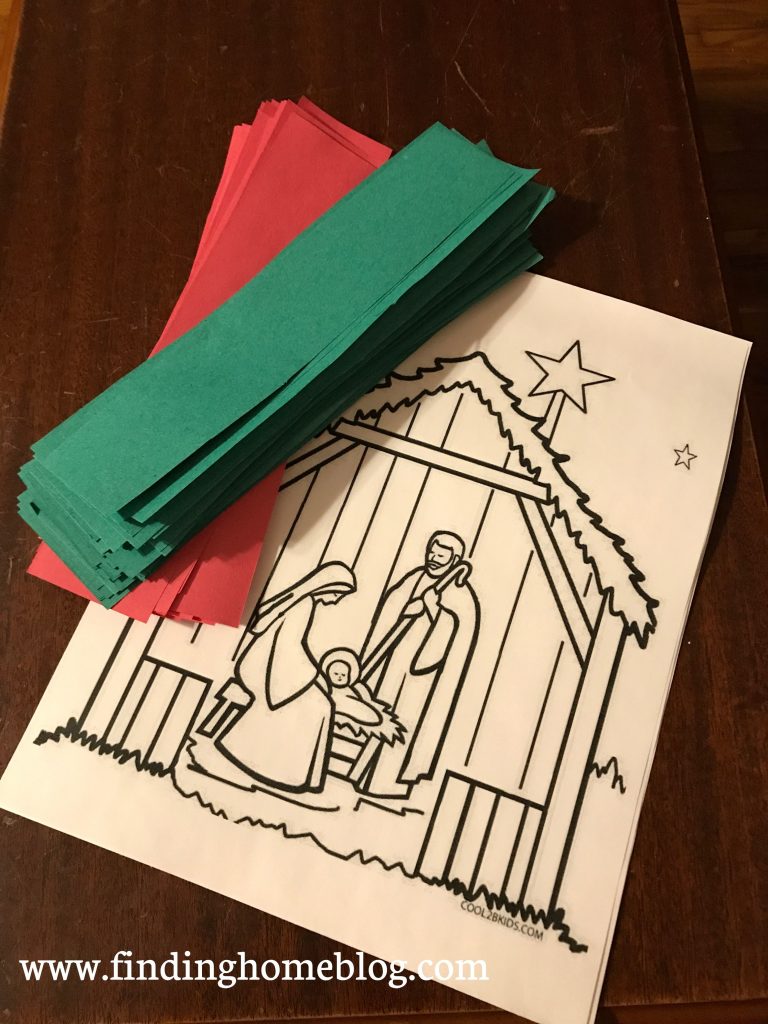 25 Easy Ideas for Christmas Fun
Make red and green paper link countdown chains to Christmas
Have hot chocolate for snack
Decorate the Christmas tree, especially if the kids have their own ornaments
Watch Rudolph the Red-Nosed Reindeer
Make paper snowflakes
Read Christmas picture books
Make ornaments from a kit (or find an easy project on Pinterest)
Make holiday trail mix or puppy chow (just add some red and green M&Ms or something with holiday color)
Dress up and take Christmas pictures
Make Christmas card placemats or another project using old cards
Make peanut butter balls
Decorate a gingerbread house kit – we usually split the pieces and decorative candies and each kid decorates a flat piece. Much easier than assembling! We've also decorated graham crackers.
Christmas themed kitchen play (scroll down to Letter K in this post if you don't know what "kitchen play" is)
Start an Advent devotional (we have a 12 day Dayspring one that I don't think they sell any more, but there are lots of good choices!)
Drive around at night and look at Christmas lights
Appetizer dinner – everyone picks their favorite appetizer and you eat them all! We usually do this on Christmas Eve.
Read the Christmas story from the Bible
Make Ritz cracker cookies
Watch Frosty the Snowman
Watch Elf
Sing Christmas songs together (or put on fast Christmas music and have a Christmas dance party
Make and decorate sugar cookies
Build a snowman! If you live where there's snow, that is. Otherwise, make a crafty snowman.
Repeat an easy one, like reading picture books or having hot chocolate for snack (and honestly, you can use several of the easy ones more than once – I totally do that, and the kids still love it!)
I just keep a running list in my phone and mark them off as we do them. Obviously some will be a little more time specific, but many of these can be done any time in December.
If you want to get really fancy, you can write them out on slips of paper and leave one for your kids to find every morning. I did this last year with a small pocket calendar, and it was nice, because I could decide the night before what would work best with our schedule.
If you have certain special family events or outings that happen in December, guess what? Those totally count! So if you have a family Christmas party on the 18th, your planning for that day is done.
I love Christmas time. I love the music and the decorations and the treats and the whole feel of the season. But it's really easy to get wrapped up in all of that stuff and get overwhelmed and totally forget about what we're actually celebrating, the birth of Jesus. So by focusing on just one thing each day, we still get to do our favorite holiday things, but we also don't lose sight of the reason for the season.
What's your favorite easy Christmas activity?