Beans are one of a frugal foodie's favorites, because they're cheap, easy, and full of fiber and protein to keep you going. And when the cans of beans are on sale, you can find them for less than $1 each. But cooking dry beans will stretch that dollar even further: 1 pound of dry beans will get you 5-7 cups of cooked beans, depending on the type, where 1 can will give you 1-2 cups, usually for about the same price.
But how do you cook those rock hard dry beans?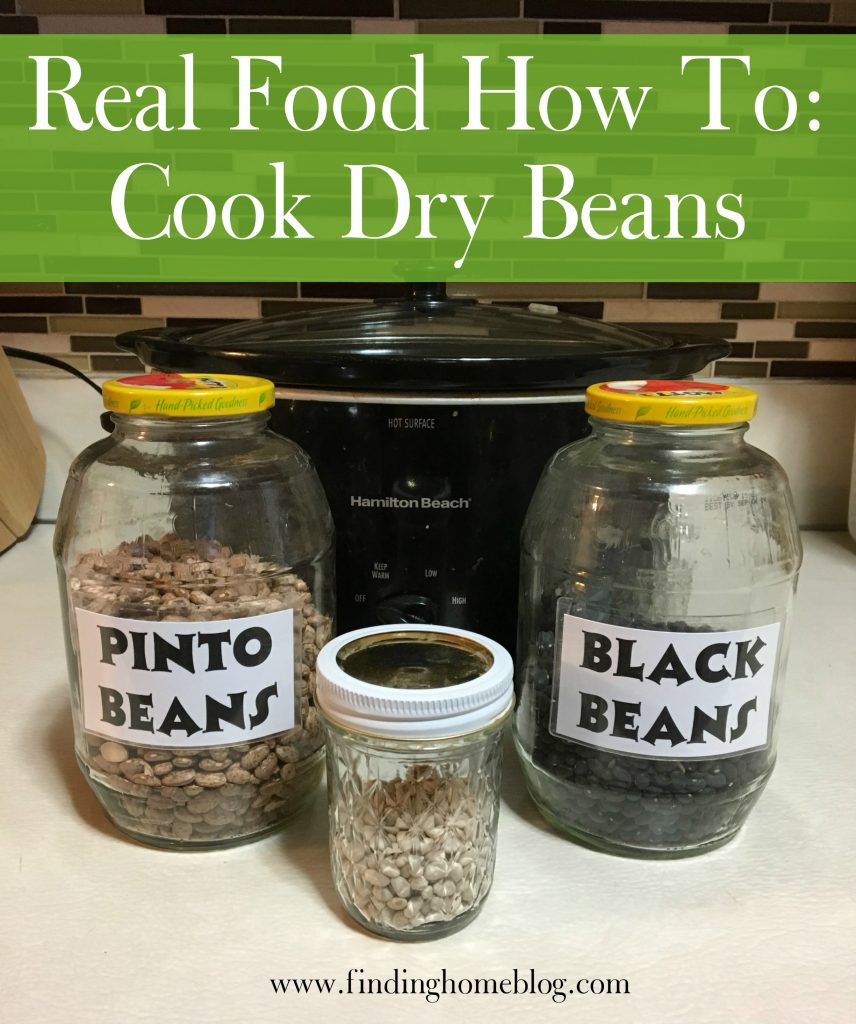 You can cook dry beans on the stove top. In a large pot, pour your beans, taking care to pick out any junky looking beans or rocks that may be mixed in (I've only found a rock once, but they do slip in there occasionally!). Fill the pot with water, leaving about an inch of space at the top. Heat to boiling, and boil rapidly for 2-3 minutes. Turn off heat, cover pot, and leave on the stovetop for one hour – set a timer so you don't forget!
After the hour is up, drain the beans, fill with fresh water, and simmer over medium high heat for 1-2 hours, until the beans are soft. You may need to add additional water during the cooking time, although keeping the pot covered will help with evaporation.
For a more hands off method, you can also cook dry beans in the crockpot. Remember that your beans will expand 2-3 times in size by the time they're cooked, so 1 cup of dry beans will equal 2-3 cups of cooked beans. I like to do a big batch, and freeze the cooked beans in 2 cup portions.
Measure your beans into the crockpot (or dump the whole bag in), and fill with water. Cook on high for 5-6 hours or low for 8-10 hours. Check the water level occasionally, and check beans for tenderness once you get close to the lower end of the cooking time. Once they're cooked, drain them and cool them, then store in the refrigerator for up to a week, or the freezer for up to 2 months.
If you're cooler than me and have an instant pot, you can also cook your dry beans in there.
Now, how to use those dry beans once you've cooked them? Here's one yummy idea: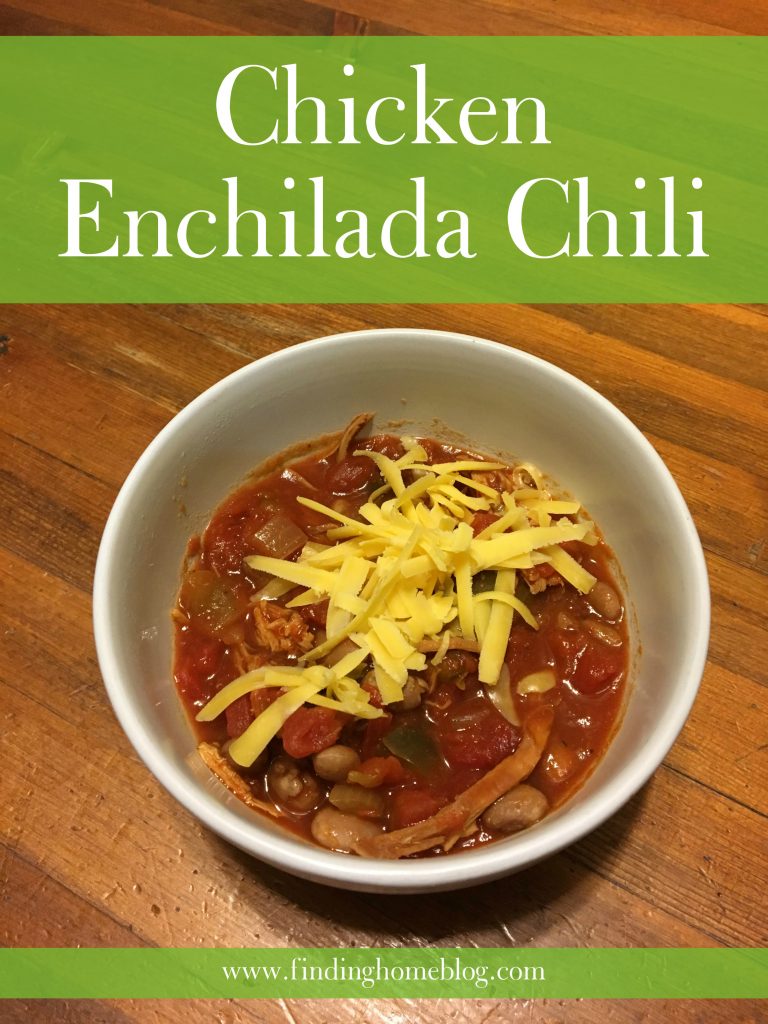 Chicken Enchilada Chili
Serves 8-10
Ingredients:
2 cups shredded cooked chicken
3 cups cooked pinto beans
2 cups chicken broth
2 (14.5oz.) cans diced tomatoes, undrained
6oz. tomato paste
1 green pepper, chopped
1 onion, chopped
1 tsp. garlic powder
2 tsp. cumin
1 tsp. chili powder
½ tsp. salt
½ tsp. oregano
¼ tsp. pepper
Directions:
Add all ingredients to crockpot. Cook on high for 4-6 hours, or on low 8-10 hours, until green peppers and onions are cooked to your liking.
If you're not in the mood for Enchilada Chili, try one of these other bean-y recipes instead:
Or if all else fails, make some rice, add some beans, and get creative with your spices and toppings.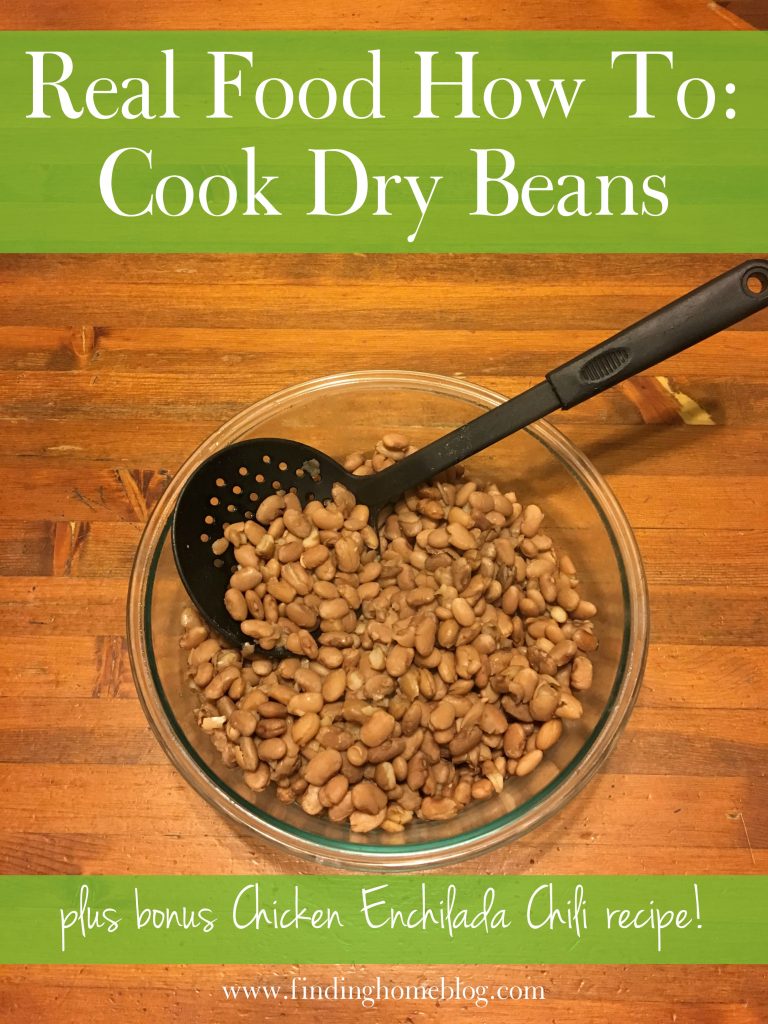 Disclosure: Some of the links in this post are affiliate links. If you make a purchase through these links, I receive a bit of a commission at no additional charge to you.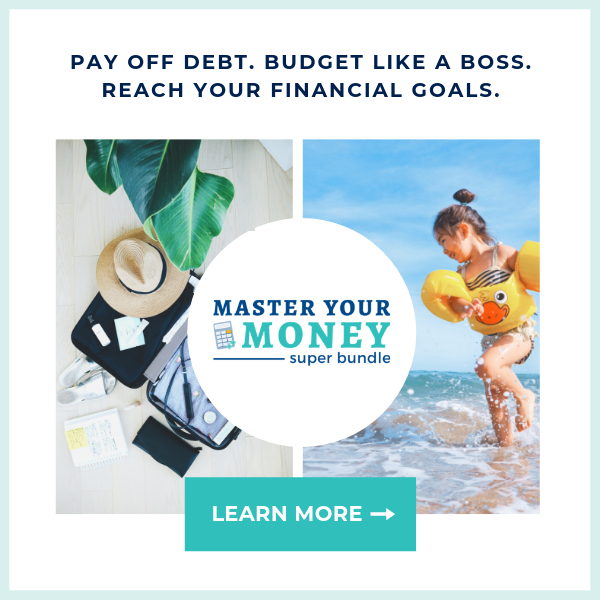 One of the best places to start saving money is in the kitchen. If you're trying to save money, get out of debt, or just keep track of what you're spending, check out the Master Your Money Super Bundle. It's full of resources to help you control your family's finances so that you can tell your money where to go, and reach those financial goals!