Disclosure: Some of the links in this post are affiliate links. If you make a purchase through these links, I receive a bit of a commission at no additional charge to you.
One of my favorite breakfast meals growing up was chocolate chip waffles. Although really, it was one of my favorite breakfast-for-dinner recipes, because that's almost always when we had them.
We had waffles while visiting family, and I wanted to recreate this recipe for my kids too. And then I kind of sat on sharing it with you all for the better part of a year. Oops!
Luckily, that means we've had plenty of time to test it out, and I can tell you that the kids gobble these up every time. I make a double batch (which makes 18-20 small waffles), and we usually only have a couple left!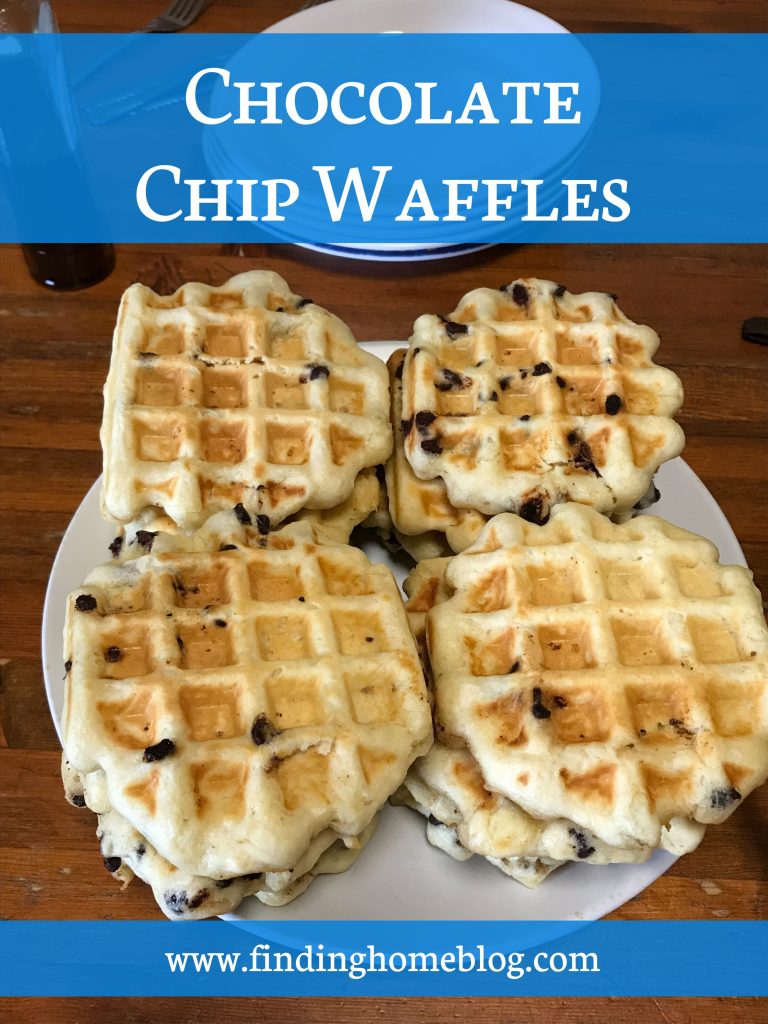 I will say that I have not attempted to make these gluten free yet. Sometimes I eat them, and sometimes I eat something else, depending on how much wheat flour I've had that week. I have a very low tolerance for wheat flour, but I can eat it once in awhile without too many issues.
But this is one of those wheat flour recipes that is pretty simple, and very delicious. Plus, if you don't have 5 ravenous wolves for children, you could make a double batch and be set for quite awhile. Ha!
This recipe is modified from the Betty Crocker Bisquick waffle recipe, using this homemade Bisquick recipe from My Baking Addiction as inspiration and combining the two. Plus switching from oil to butter, because, well, I like butter.
Chocolate Chip Waffles
Makes about 10 small waffles
Ingredients:
2 cups all-purpose flour
1 Tbsp. baking powder
1 tsp. salt
1/4 cup cold butter
1-1/3 cups milk
1 large egg
2 Tbsp. melted butter
1/3 cup mini chocolate chips
Directions:
In large bowl, mix together flour, baking powder, and salt. Cut in cold butter, until mixture is crumbly. (I have a similar pastry cutter to this one, which I use all the time for things like this!)
Add milk, egg, and melted butter and stir to combine. Fold in chocolate chips.
Heat waffle iron, and bake according to directions. My waffle iron goes for about 4 minutes per batch. Yours may be slightly different. (Also I should note that if I were shopping for a waffle iron today, I would choose one with removable plates for easier cleaning, but I really like this one otherwise.)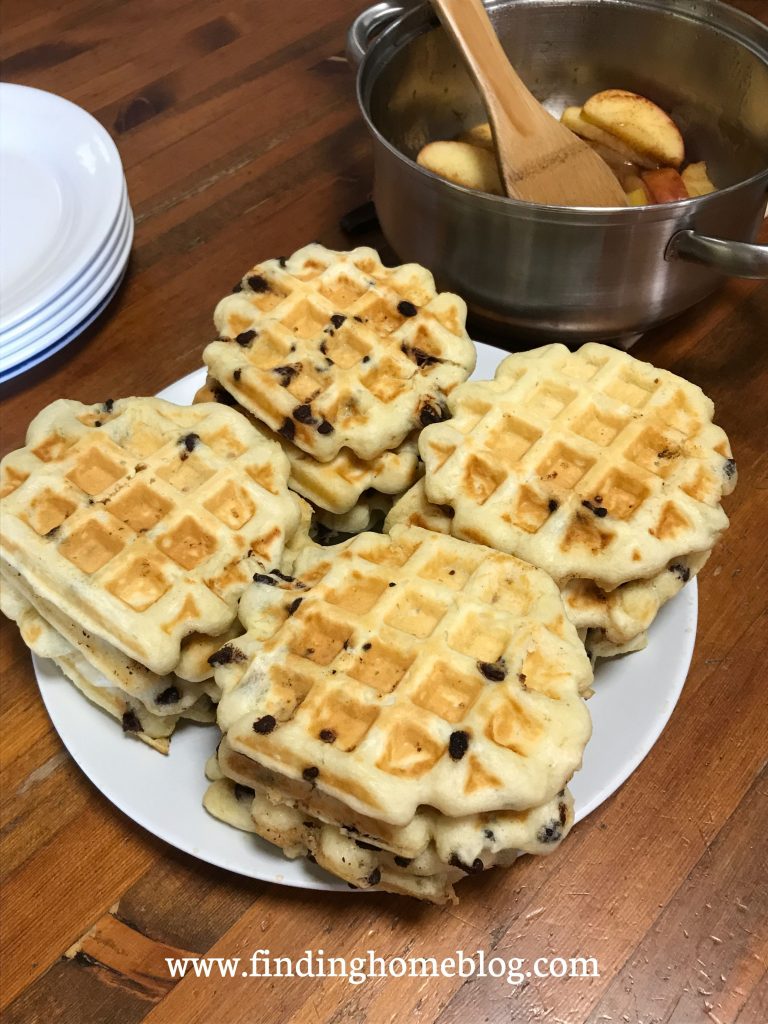 We like to enjoy our waffles with plenty of syrup on top, and cinnamon apples and bacon on the side. It makes for a delicious breakfast-for-dinner meal, and it's fairly quick to put together, although it does mean a bit of bouncing back and forth between cooking bacon, starting the apples, and switching the batch of waffles. I promise though, if I can do it, you totally can too.
Now the ultimate question: which breakfast item wins – waffles or pancakes?
Related Posts: