In recent weeks, we've talked about what to make when certain meats (or no meats) are on sale.  But you can also do the same sort of meals by buying meat in bulk.  But what does that look like, and how does it fit into your kitchen?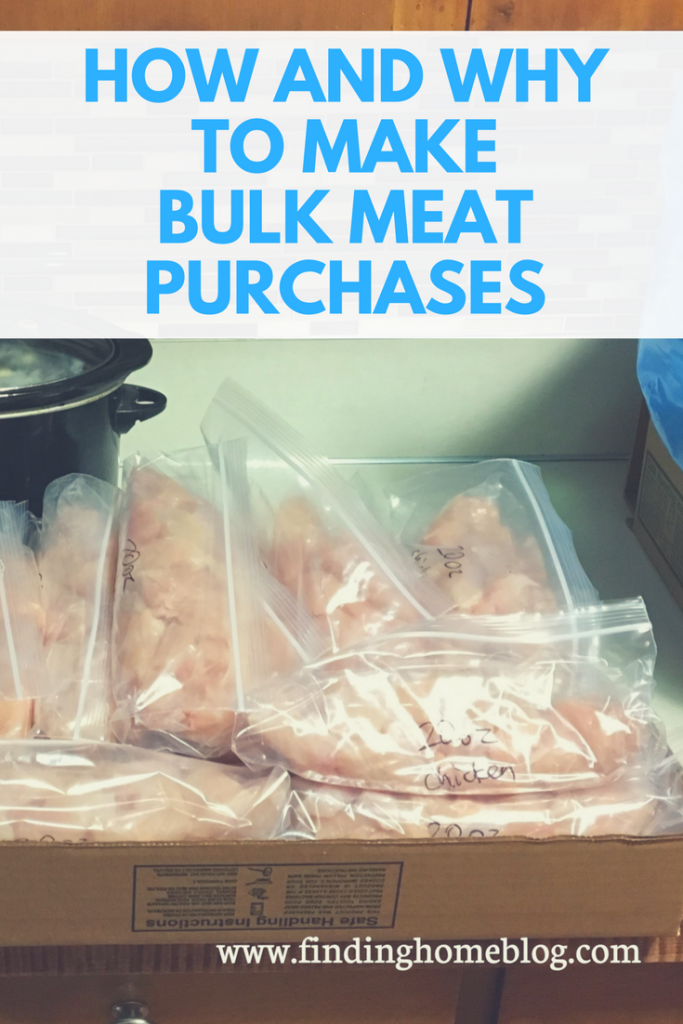 Where Do I Even Buy Meat On Sale?
You have a couple of options for buying meat on sale.  If you know a farmer, you can order from them directly. You might buy a part of a cow, or a pig, or you might go in on a purchase like this with another family.  Although we didn't end up purchasing from them, we've found a few farmers at the farmers' market who were selling meat.  They were also taking orders for larger purchases at a later date.
You can also order online for a co-op delivery.  My favorite place to do this is Zaycon Fresh.  So far I've only ordered their chicken breast in bulk, which comes in 40 pound cases, but they sell a variety of poultry, beef, and pork cuts, as well as seafood.  One thing to pay attention to is how far apart the deliveries are – the chicken breast only comes to our town every 3-4 months.  You don't want to run out before the next delivery!
Update: Zaycon Fresh has closed their doors. If you know of another bulk chicken provider, I'd love to hear!
You can also make bulk purchases from grocery stores or restaurant supply stores.  Pay attention to the sales, and purchase a large amount.  Grocery stores can also order a larger amount for you and may give you a discount, depending on the size of your order.  You just have to talk to the meat department manager!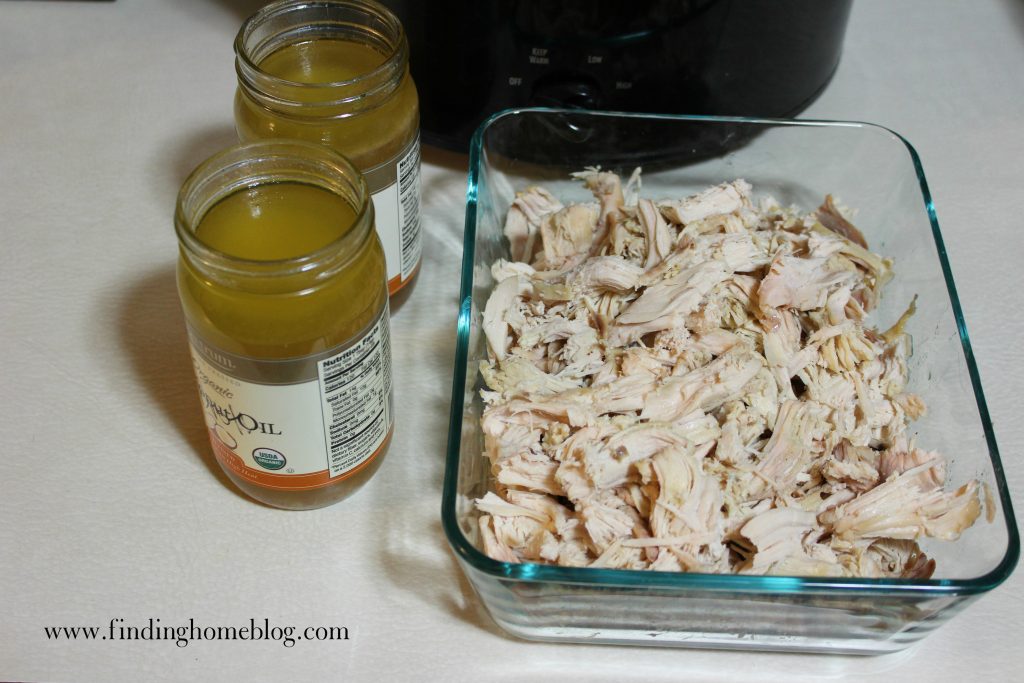 Why Should I Make Bulk Meat Purchases?
My number one reason to make bulk meat purchases is that it saves money!  The obvious savings is that you get a better price per ounce of whatever you're buying. But you also save money by not using gas to go to the store as often, and by not having to shop as often (because I don't know about you, but I almost always end up with some sort of impulse purchase in my cart!).
Buying meat in bulk also saves you time. You can make your meal plan from the freezer and the pantry, meaning you don't have to go to the store at all, or if you do, it's only for a few things.  You start to get to know your favorite recipes with certain types of meat, so meal planning goes faster.
You're also helping the environment by buying in bulk.  For starters, there's hopefully less packaging involved.  But you may also be saving meat from spoiling and being thrown out.  This is especially noticeable at the grocery store, where meat may be marked down because it's near it's sell by date or it's on the verge of going bad.  You can take that home and either cook it right away or freeze it, and save it from being wasted.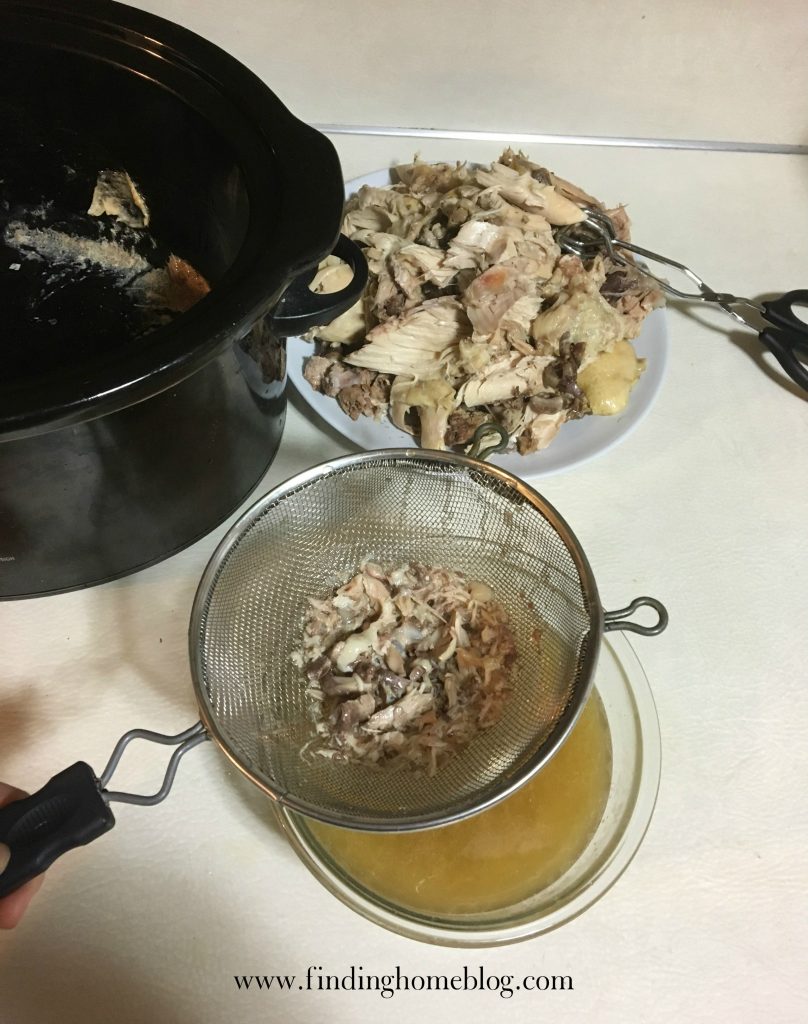 How Do I Save My Bulk Meat Purchases?
Obviously you're not going to be able to eat all of that meat all at once.  For me, the easiest plan is to freeze most of it. (You can also can some meats, or dry some, but we're going to stick with the freezer here.)
When we get our big chicken order, I spend a few hours portioning the meat up.  That means cooking some in the crockpot and then saving it in 1-cup portions in snack-size ziploc bags for easy additions to soups and sauces.
It means putting 16-20 oz. at a time in small pieces in larger ziploc bags, because that's what I use for most meals. (I have this handy kitchen scale to help me keep track).
It means saving a few meals worth of larger breasts for when I want to make Double Smothered Chicken or Chicken Cacciatore.
And it means saving the trimmings and making a big batch of Chicken Broth before I'm all done.
Obviously, how you save it will depend on what type of meat it is and how much you got, but it's good to go into a bulk order with a plan, and to make sure you have enough bags or containers or storage for all of what you're getting.
We have a chest freezer where we put most of our bulk meat purchases, and we use our refrigerator's freezer for fruits, veggies, and ice cream. But if you don't have a chest freezer, you can still fit quite a bit in the refrigerator freezer!
Flatten out ground meat in bags so that they can stand like files or be stacked up.
Use square or rectangle containers that stack well.
Use cardboard boxes as dividers, or put all of one type of thing in a plastic bag from the grocery store to keep things compact but separated by type.
And don't forget your Freezer Inventory!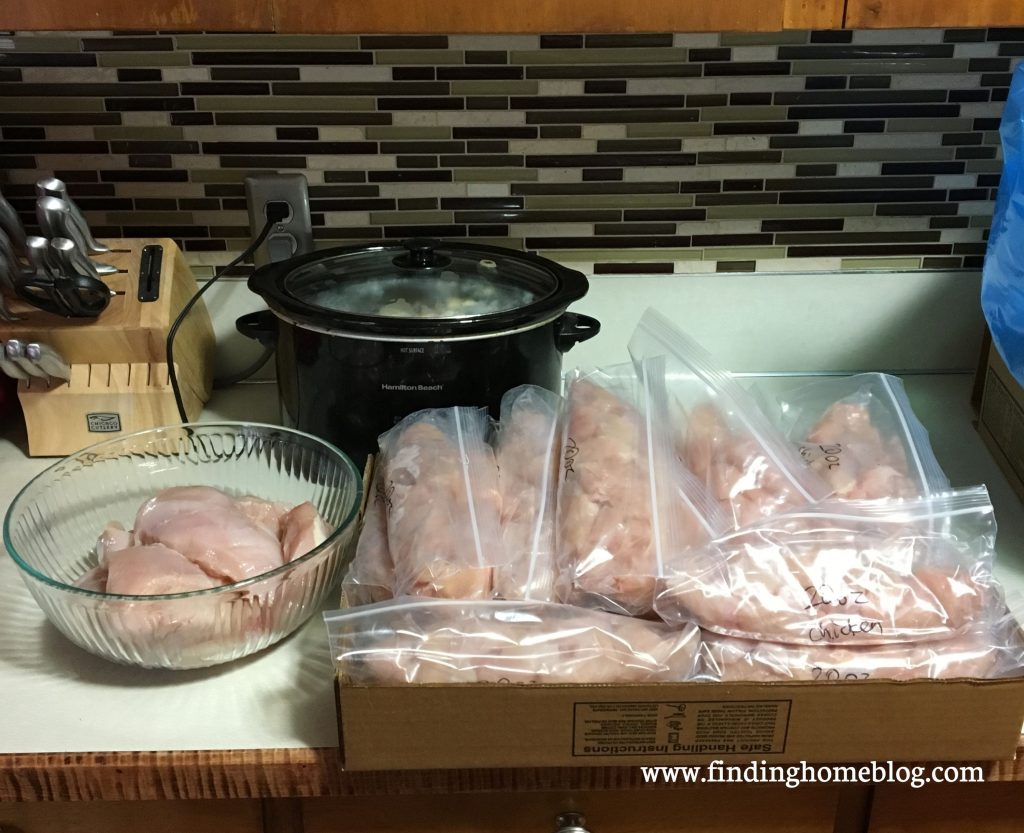 How Do Bulk Meat Purchases Fit Into My Budget?
So you want to do a bulk meat order, but how does that work with your grocery budget?  For us, we've built our way up slowly.  I started by replacing some of our pantry staples with bulk orders.  Things like dry black beans, dry brown rice, and oats are fairly cheap to buy in bulk (less than $20 for 25 pounds), so I was able to get one or two of those per month, freeing up room in the next month's grocery budget for a bigger bulk purchase, because I didn't have to buy those ingredients.
You can also choose to spend some of your budget money from another category to start you out on your bulk purchasing journey.  Maybe you want to use your tax refund to buy a quarter of a cow.  Or maybe you just got a bonus at work, and you use it to buy some sausage and bacon at a really good price from a grocery sale.
Then as you plan meals around what you have, you'll have one less ingredient to purchase, leaving more room in your grocery budget for the next bulk purchase.
We've been doing this for about a year now, and most of the groceries we buy from week to week are fresh produce, dairy, and a few random pantry items.  The rest of our pantry staples and meats are made with larger purchases, staggered so that we have a few each month.
It took us a little bit to get to this point, but it's nice to know that we have plenty of food in the house, so that if I can't get to the store for some reason, there's still quite a lot to eat!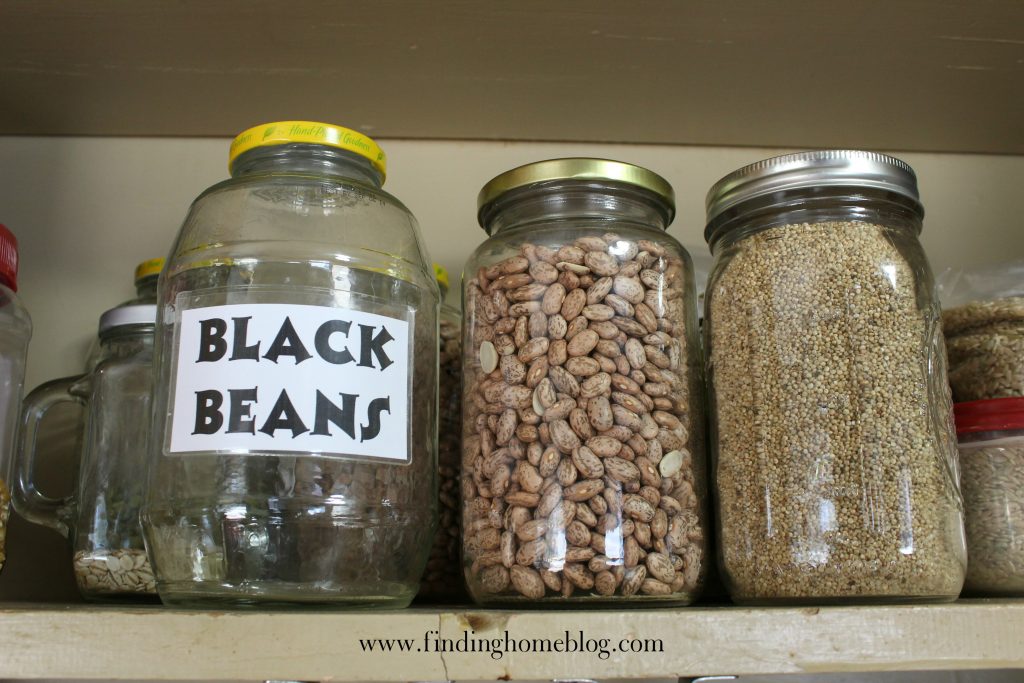 Making a bulk meat purchase can be intimidating, because it's hard to know where to start.  But purchasing meat in bulk can save you time, money, and sanity!  Which meat purchase will you be making first?
More Posts in This Series:
Disclosure: Some of the links in this post are affiliate links. If you make a purchase through these links, I receive a bit of a commission at no additional charge to you.