Disclosure: Some of the links in this post are affiliate links. If you make a purchase through these links, I get a bit of a commission at no additional charge to you.
No matter what you do with the rest of the time in your day, your family will want to eat food at some point. Multiple points. Sometimes never-ending points. And they will ask you what's for dinner. Or what's for snack. Or what else they can have. All those little questions about food can slowly drive you crazy.
I know, because I've been there. But we've gotten to a point where my kids don't ask about food quite as often, and my husband almost never asks. We've streamlined food.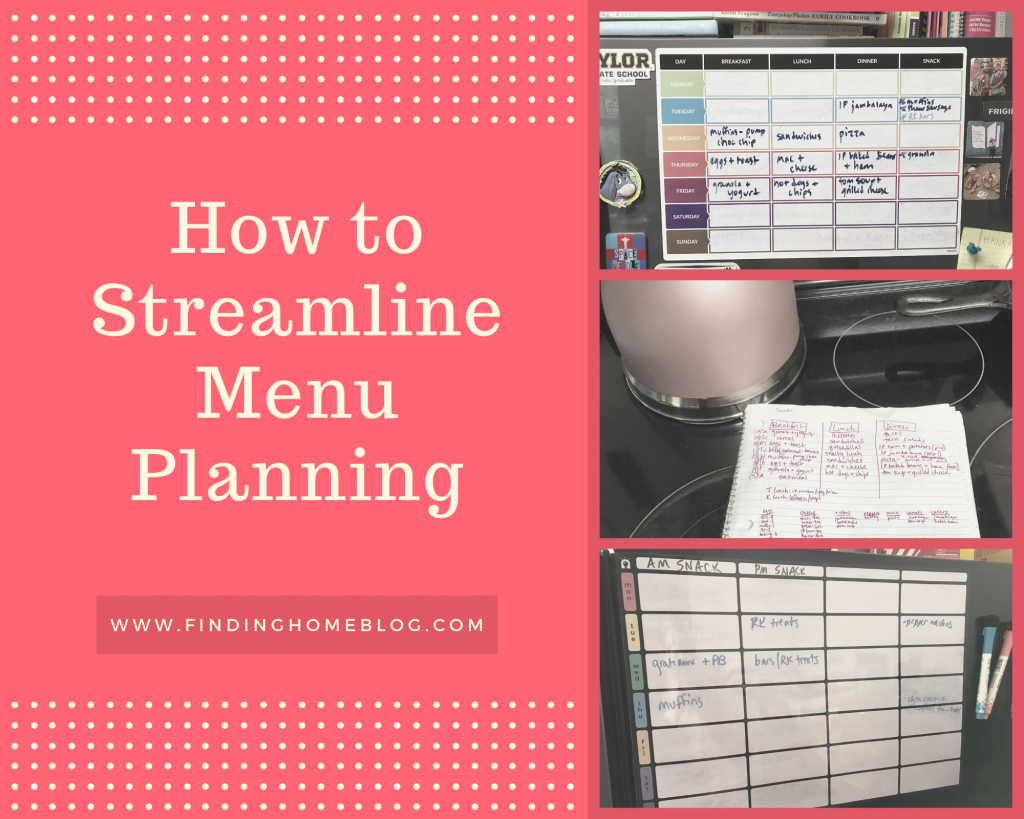 I actually use a few different menu planning methods for the food that we eat. So I'm going to give you the examples of what we do for each meal, and I would recommend picking one of these methods to start with. You'll eventually find what works best for you too!
Let's start with streamlining breakfast.
There are people who eat the same thing for breakfast every single day. I am not those people. I like a bit of variety in my food. But I also don't like to think too much about food before I've had my coffee, and while I enjoy eating a hot meal for breakfast, I don't actually like cooking right away in the morning.
This means that when I came up with a breakfast schedule for us, I needed to include mostly make ahead meals, with enough variety that we wouldn't get bored, but with enough of the same things that it was easy.
Here's our breakfast schedule:
Monday: Eggs and toast
Tuesday: Baked oatmeal (prepared the night before by one of my kids, so all I have to do is take it out and put it in the oven)
Wednesday: Muffins
Thursday: Eggs and toast
Friday: Yogurt and granola
Saturday: Oatmeal
Sunday: Cereal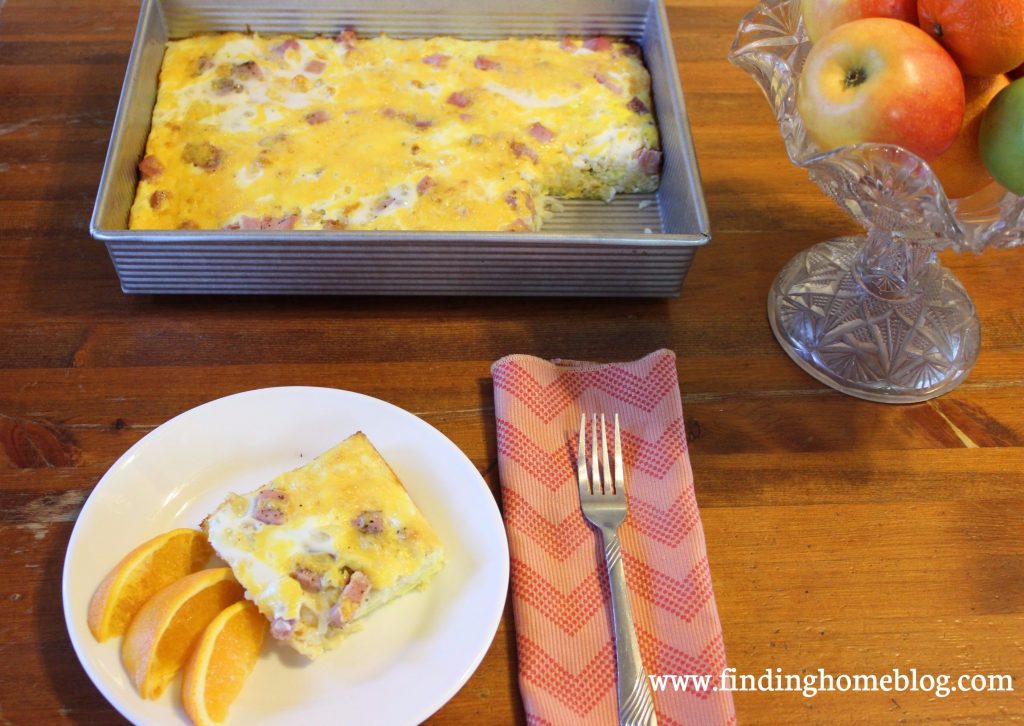 Most of those are pretty basic. Some of them repeat. I cook a couple times, but it's mostly hands off stuff. Your breakfast schedule is going to look different than mine, but here is what I want you to do.
Decide once what you're going to eat for breakfast for a week. And then repeat that over and over and over. You can vary flavors or methods – sometimes instead of eggs and toast we have French toast or egg bake, and we rotate 3-4 flavors of baked oatmeal. The point is to take what you normally eat and assign it to a specific day, so that you always eat that thing on that day. And your kids will learn those days pretty quickly, which means less questions for you to answer.
What do you typically eat for breakfast?
Do you like to cook, or do you want your breakfasts to be mostly hands off or made ahead of time?
Make a breakfast schedule. Try it out for two weeks. If it works, keep it going. If not, adjust it and continue. Post it in your kitchen, so everyone knows what's for breakfast.
Menu planning method: Repeat the same basic meals over and over.
Let's streamline your lunches.
We do lunch similar to breakfast, in that we eat the same things most of the time. Where lunch is different for us is that instead of having the same thing on the same day, we have the same 5-7 meals, but not always in the same order. If you don't love the rigidity of the method I just described for breakfasts, this might be a better way for you to streamline some of your meals.
In a typical week, I will make the following meals for my kids for lunch:
Quesadillas
Sandwiches
Snacky lunch (basically a kid-friendly charcuterie board)
Sandwiches
Fun lunch (chicken nuggets, nachos, or restaurant)
Leftovers or pancakes
These are not always in the same order, and you'll notice that sandwiches is on there twice, because it's easy, and my goal with lunch is always easy. I'll typically serve the kid lunch with fruit, and if they're still hungry, I'll offer pretzels or veggies. They know what to expect for lunch, and I don't have to think too hard when I'm grocery shopping. I always have the ingredients for these lunches.
My husband and I don't always eat the same thing as the kids for lunch. But what I will do is batch cook something for us to eat. What that means is I'll make a pot of soup specifically for us to eat for lunches for 3-4 days. Each day we can just grab a container of soup, reheat, and we're done. It's a weekend prep task that saves me enough time during the week that I'm willing to make what amounts to one extra meal.
If we aren't feeling like soup, I'll prep several burrito bowls. Or get salads ready to go. For us, we don't mind eating the same thing for a few days as long as it's quick and easy. He takes his to work, and I can eat mine in peace after I feed the kids.
What do you typically feed your kids for lunch? Chances are you repeat a lot of the same meals, so see if you have at least 4-7 meals.
Do you eat the same thing as your kids for lunch? If not, what are 3-4 meals you could batch prepare for yourself?
Menu planning method: Make a master list of typical lunches. Choose something from the list each day (but don't assign to specific days).
Bonus menu planning method: Choose one thing to batch cook and make enough for 3-4 days.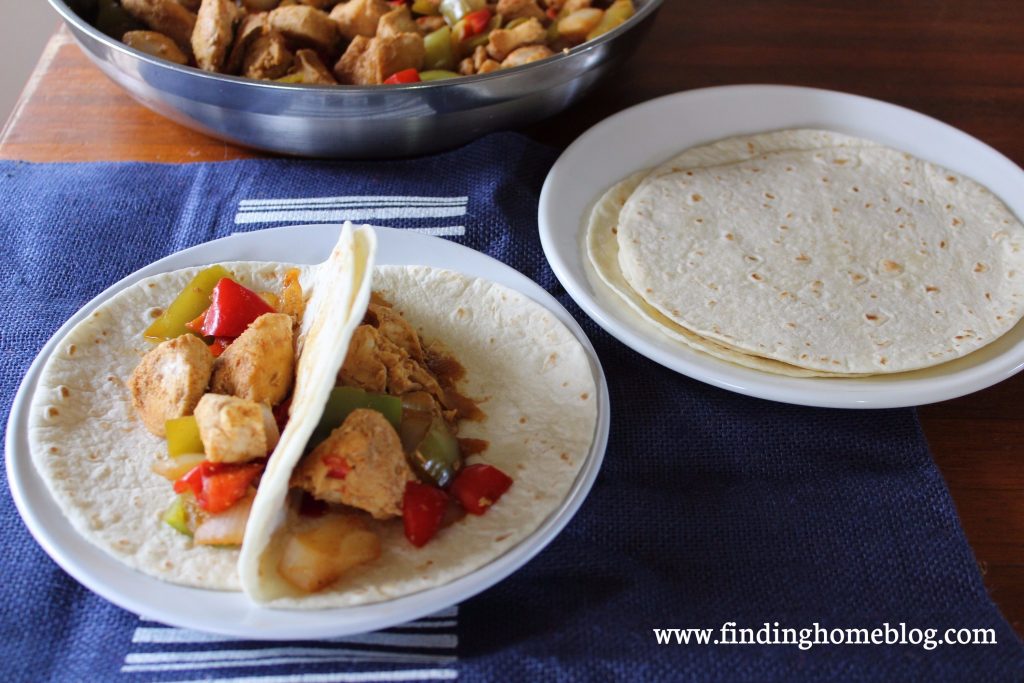 Continuing on through the day, let's streamline dinners.
If you've read any sort of meal planning books before, you've probably heard of the idea of theme nights. Whether you plan a certain protein or a certain type of cuisine, you assign something to each night, and then you work within those guidelines.
I like to do a combination of proteins and themes, and while I don't assign them to specific days, I make sure I hit each category each week.
For us, that means in a typical week we'll eat:
Pizza night
Pasta
Asian dish with rice
Soup
Tacos or Mexican
Chicken
Beef or fish or pork (we don't eat any of these weekly, but we usually have one of them)
Those are the categories that I've discovered work best for us. Your family will obviously be different, and if you have specific dietary guidelines you're following, your categories are going to be based on that.
To start out, make a list of your most common dinners. What do you default to when you're thinking about what to make? Which proteins do you eat most often? Do you have a certain thing you eat every single week, like a pizza night or a taco Tuesday?
Categorize the meals you just listed. Do you have a lot of Italian meals? Italian food is one of your family's categories. Do you eat chicken quite a bit? Chicken is one of your days. If you get stuck, you can always combine days as well. For our family, we don't eat beef, pork, or fish every week, but we'll typically have one of them. So that mish-mash is one of our categories.
List out your seven categories. If you don't have seven, but you end up eating one of them multiple times a week, list it twice! Remember, this is your list. It only has to make sense to you.
For the next two weeks, use your seven categories to plan out your dinners. Pick a meal that fits within each category, and you'll be ready to feed your family dinner.
Menu planning method: Have theme nights, based on protein, type of cuisine, or a mix of the two.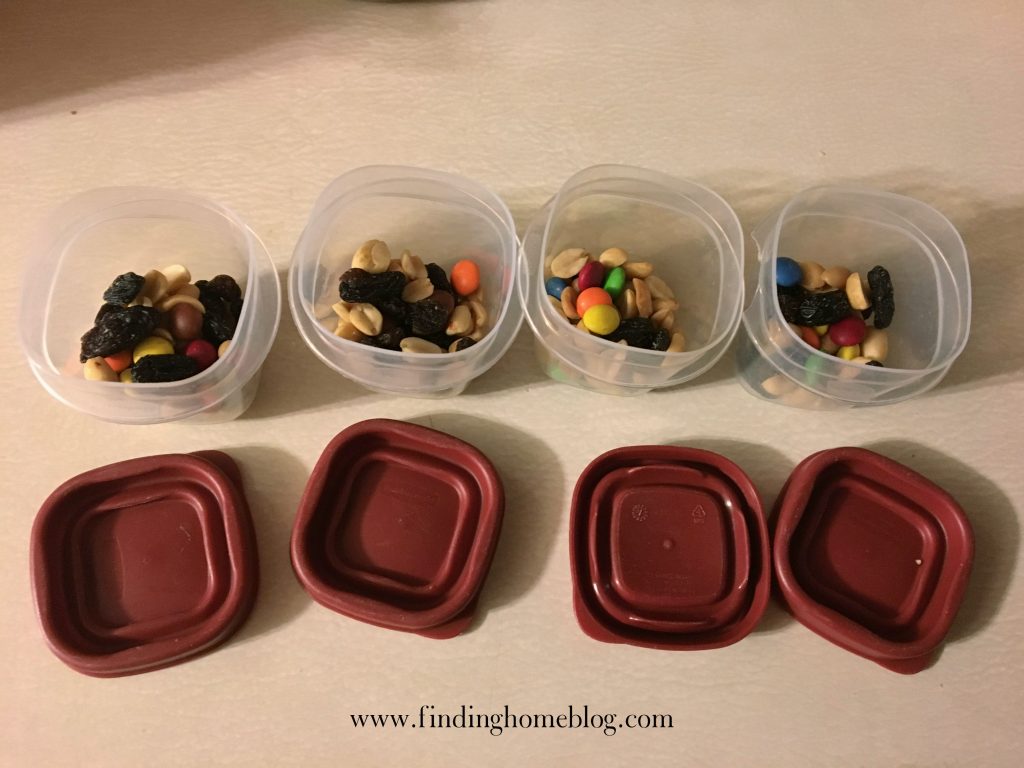 Let's talk about snacks.
If I didn't limit them, my kids would be snacking from the moment they wake up to the moment they go to bed. They love snack foods. But too many snacks means they won't eat those meals I just planned for them, so we've decided on 10:30AM and 3:30PM as our two snack times.
They don't have to ask when they can have a snack, because if it's not one of those times, the answer is no.
As for what to have for snacks, I plan it out a few days at a time, so I know we'll always have options. We have a large blue popcorn bowl, which I keep filled with prepackaged snacks. Granola bars, little bags of cookies, fruit strips, basically any shelf-stable individually packed snack goes in that bowl. So a lot of times, I'll just tell them to have a "blue bowl" snack.
I also like to bake, so we usually have some sort of banana bread or bars or cookies or whatever else around the house.
And we have plenty of fruit choices as well.
Whatever your typical snack choices, it's good to have either a set snack time, or a certain number of snacks that your kids can have during the day. And if you're able to, having a designated snack spot in your kitchen can be helpful.
What do you typically keep on hand for snacks?
Do you have a specific snack time? Do you want to set one? (If you don't want a specific time, designate how may snacks are allowed in a day)

What do you use to menu plan?
I like to figure out our meals and snacks in a plain old spiral notebook. I write down 3 columns for the 3 meals, and write 3-4 snack options at the top of the page.
That helps me figure it out.
But in order for me to not have to field the "what's for dinner?" question multiple times per day, I have 2 markerboards on the fridge. One lists our 3 meals for the day, and one lists the 2 snack options for the day. If anyone has a question, they can look at that board. (Except for the kids who can't read)
Where do you do your menu planning?
Does your family have a way to see the menu plan?
The markerboards I got were well worth the investment, but if you don't have something like that, there are plenty of printable options out there. Just hang the menu plan somewhere the family can see it, and after a few weeks of telling them "look at the board" every time they ask, they'll get the hint.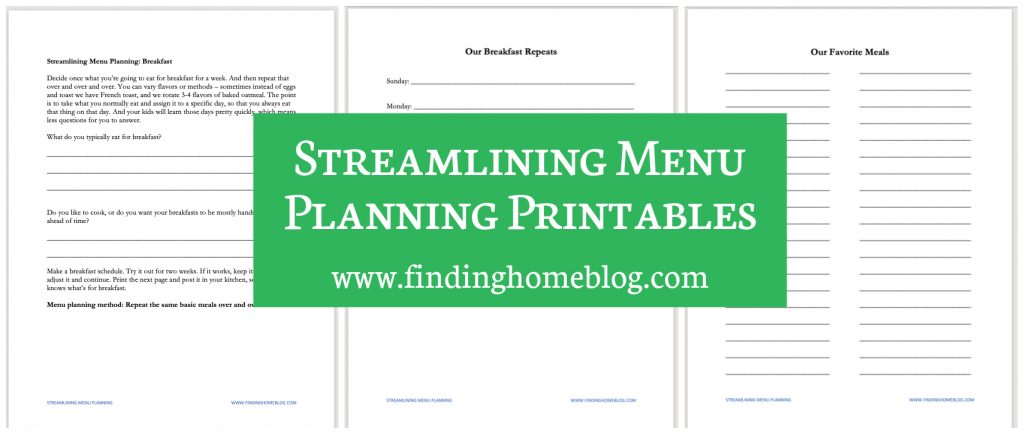 Speaking of printables, I have options for you. If any of the menu planning methods I talked about sounded like something you could do, head to the subscriber freebies page for a printable version to walk you through setting up your own (and a pretty page so you can post the food for everyone in your family to see!). If you're on my email list, the password is at the bottom of every newsletter I send. If you're not on my email list, sign up here – you'll also get my ebook with 5 free gluten free muffin recipes. Yum!