Disclosure: Some of the links in this post are affiliate links. If you make a purchase through these links, I receive a bit of a commission at no additional charge to you.
Are you a variety eater, or a same-thing-every-day eater?
I prefer a little bit of variety most of the time, although we revisit a lot of favorite meals fairly often.
But my husband could eat the same thing pretty much every day, and he would be just fine with it.
Today's recipe is one that he eats for lunch all the time. If you follow my stories on Instagram, you'll often see a batch of butternut soup as part of my kitchen work, because I make it all the time.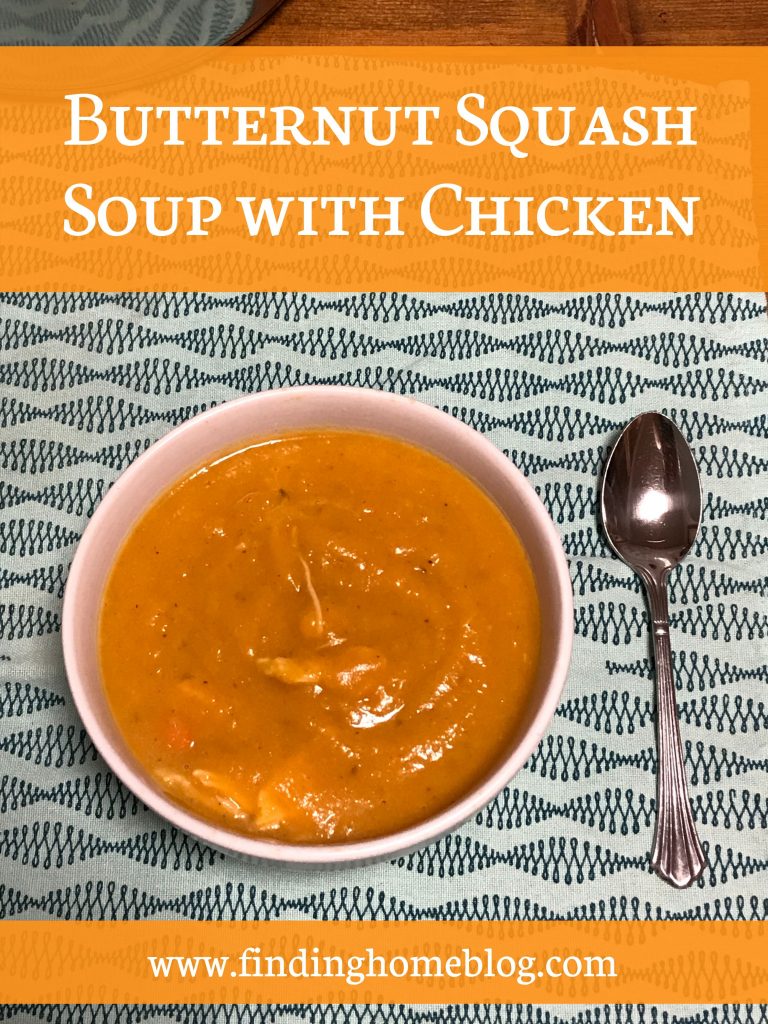 And even with the chopping involved, this is a fairly simple recipe to put together. Once you've got it simmering, it just needs a stir every now and then, and you can move on to other kitchen tasks.
Squash, carrots, and onions are all winter staples, which makes this the perfect thing to make all soup season.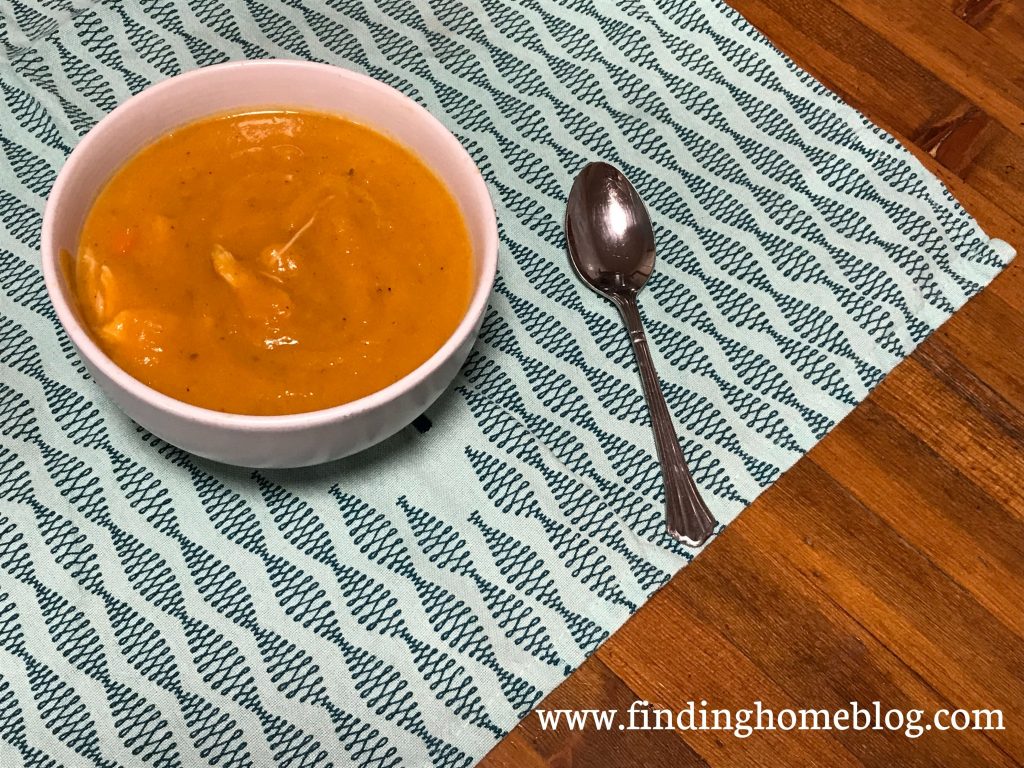 Butternut Squash Soup with Chicken
Serves 8-9
Ingredients:
1 Tbsp. extra virgin olive oil
1 onion, chopped
4 large carrots, chopped
3 garlic cloves, minced
1 large butternut, about 3 lbs., chopped*
6 cups chicken broth (how to make your own)
1 tsp. salt
1/2 tsp. black pepper
1/2 tsp. cinnamon
2 cups cooked chicken (how to cook a whole chicken)
Directions:
Chop all of your vegetables.
In a large stockpot, heat oil over medium. Add onion and carrots, and saute until softened, about 5 minutes. Add garlic and cook until fragrant, 1-2 minutes.
Add remaining ingredients, except chicken, and cook over medium heat for 25-30 minutes, until squash is cooked through.
Remove from heat, and blend using an immersion blender, until smooth. Add cooked chicken and stir to combine. Return to heat if necessary to warm the chicken (usually the soup is hot enough to warm it up).
*The size of the squash here is pretty flexible. A little bigger or smaller is fine.
Note: Store leftovers in the refrigerator for up to 4 days, and freeze any remaining soup.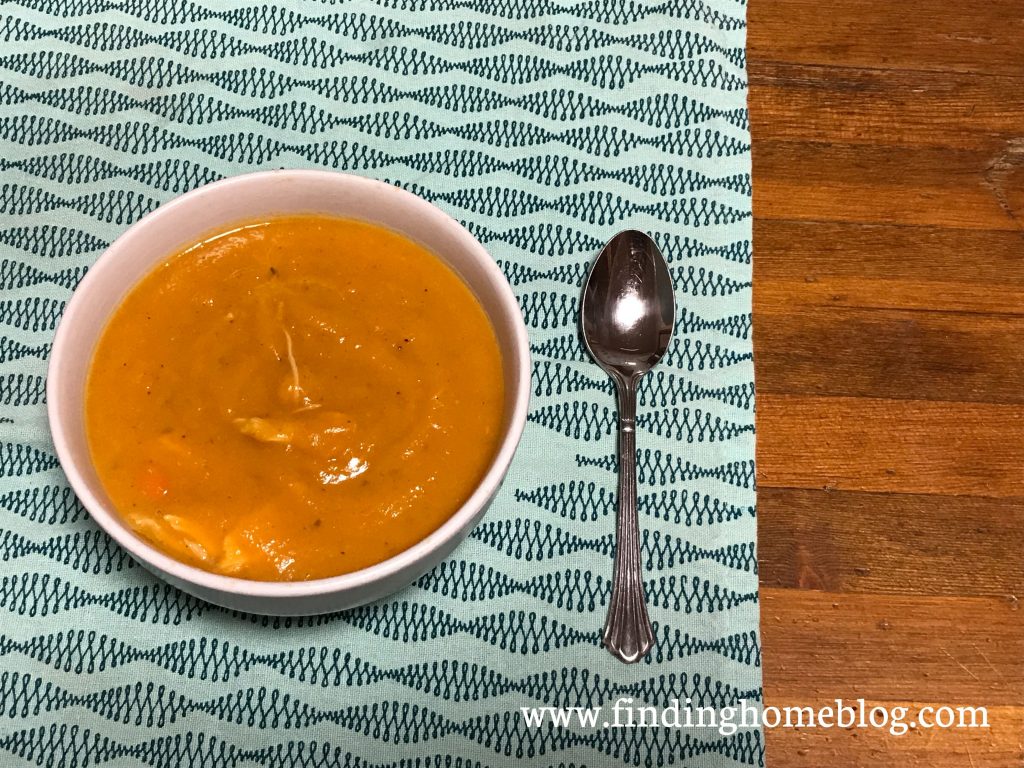 Once the soup has cooled, I usually portion it out into some of my canning jars. It's really easy for my husband to grab one of those and head to work! They also freeze well, which makes this a great soup to make a big pot of, and save some for another time, if you're the type that likes variety…
I should also note that the size of the squash can vary a bit, and the soup still turns out. If it's a smaller squash, I might add an extra carrot or two to bulk it up. If it's a really large squash, I'll just increase the broth and seasonings a bit for a really big batch of soup. The point is, it's a very forgiving recipe.
Whether you eat this every day for a week, or simply make a batch and have most of it in the freezer as a quick meal option, this is a soup you'll want to come back to.
Related Posts: