I really like the food at the Chinese buffet.  But for a long time, I was really terrible at making it.  My sauces turned out either way too bland, or way too salty.  And I didn't want to buy a whole bunch of random ingredients that I may or may not want to use again (fish sauce? three kinds of vinegar?).  But I knew there had to be a simple way to make at least a few meals that actually tasted good.
And one of my favorites?  Peanut butter chicken.
But since we are trying to eat more meatless meals lately, and since the breading on the buffet version of peanut butter chicken wouldn't work for my gluten free girls, I went a slightly different route.
Enter the peanut butter veggie stir fry.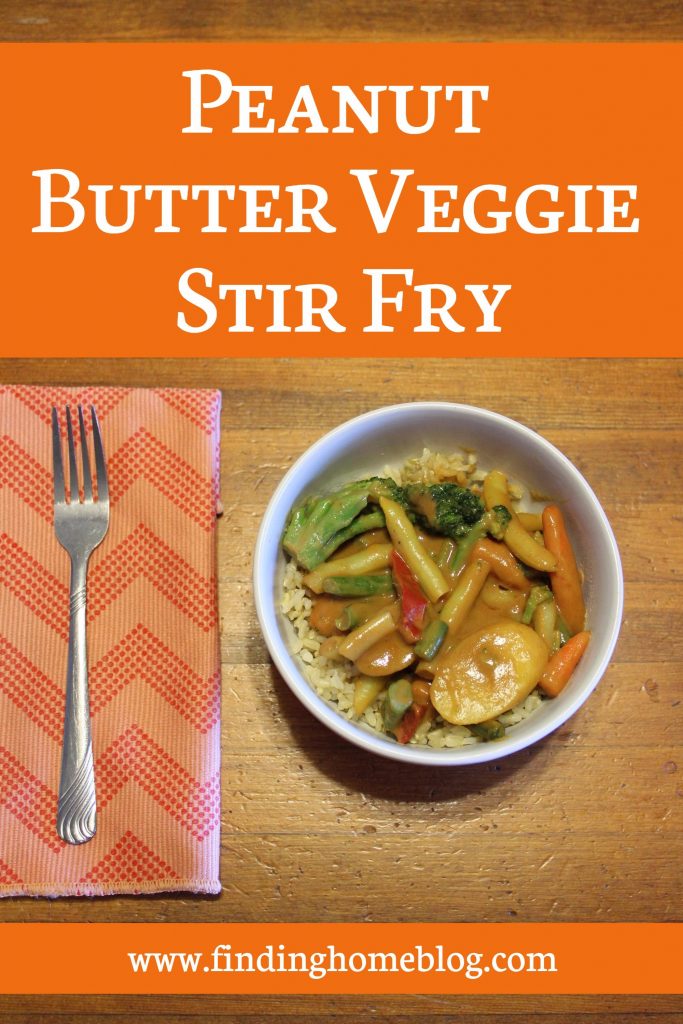 Peanut Butter Veggie Stir Fry
Serves 6
Ingredients:
20 oz. frozen stir fry veggie mix
3/4 cup peanut butter
1/4 cup gluten free soy sauce
1/2 cup chicken or vegetable broth
1/2 tsp. garlic powder
1/4 tsp. ground ginger
1/2 cup peanuts
rice for serving (how to cook rice)
Directions:
In large skillet, cook stir fry veggies.  You can fry in a bit of oil or steam with a bit of water in the pan – your choice!
Meanwhile, combine peanut butter, soy sauce, broth, garlic powder, and ginger in small saucepan.  Heat over medium low, stirring occasionally, until peanut butter is melted and sauce has thickened slightly.  Pour over cooked veggies.
Serve peanut butter veggies over rice, and top with peanuts.

I apologize for the three pots and pans it takes to make this dish.  But I regret nothing about the flavor – it's delicious!  And I don't know about your kids, but peanut butter is pretty much a favorite around here.  So making veggies taste like PB?  Oh yeah.
I also love that this meal comes together in just a few minutes (aside from the rice).  Easy button meals are my favorite.  Because if it's not easy, I probably won't make it again.  This one? We've had three times in the past few weeks.  It's a keeper.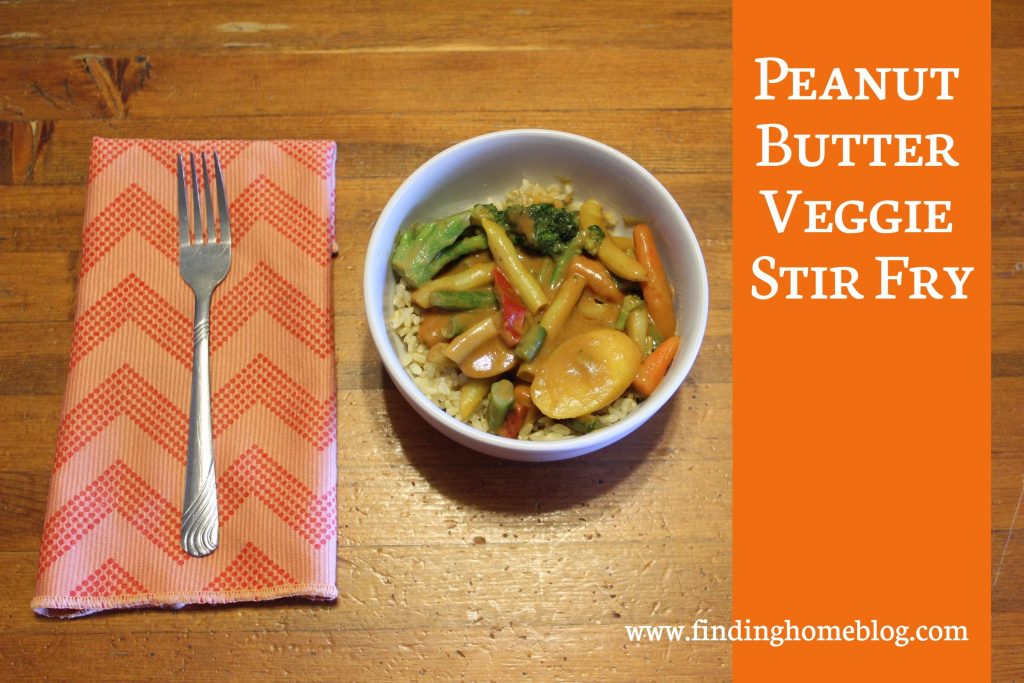 What's your favorite thing at the Chinese buffet?  Do you have a make at home version?
Disclosure: Some of the links in this post are affiliate links. If you make a purchase through these links, I receive a bit of a commission at no additional cost to you. Thank you for your support!
Related Posts: