One of our favorite breakfasts is "eggs and something".  The something varies, from hash browns to bacon and toast to fruit.  But one of my favorite "somethings" is some sort of hash.
Meat + potatoes + veggies + eggs = a filling and delicious breakfast.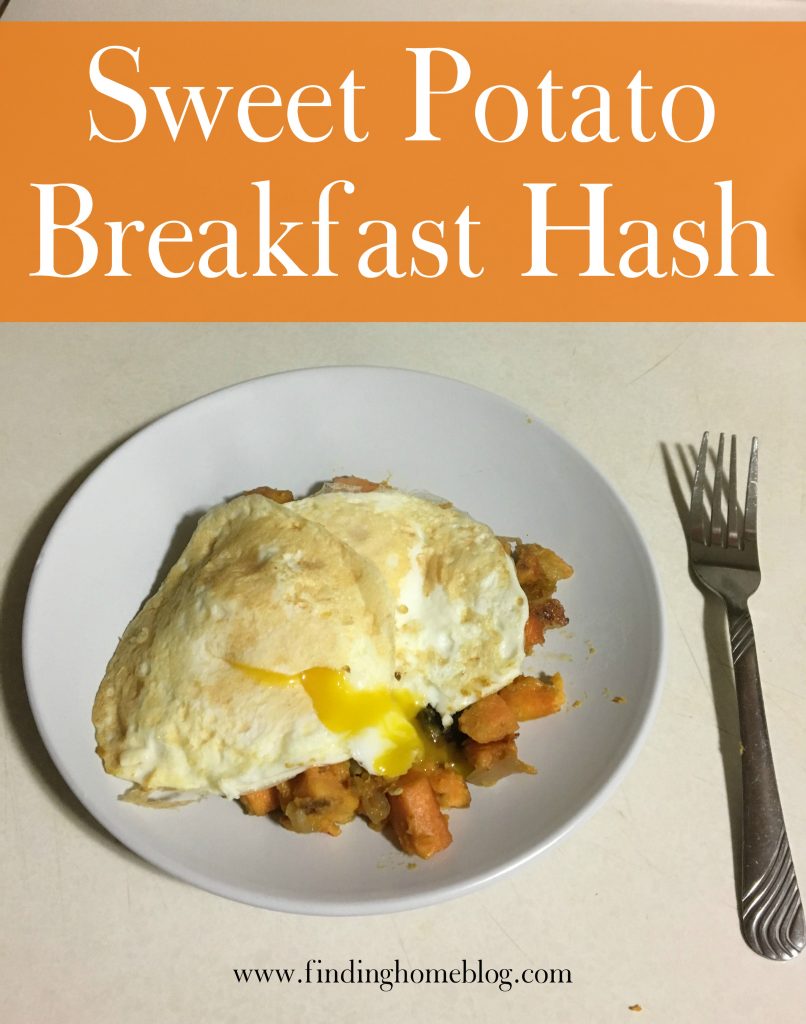 Although my three year old would currently disagree, sweet potatoes are one of the best breakfast hash options.  They're reasonably cheap, and they fry up beautifully in coconut oil or bacon grease.  (If the three year old picked the food, we'd be living off of pancakes and mac and cheese 24/7.  This is better.)
Ingredients:
1 onion
8 oz. bacon (or less)
8 oz. mushrooms (or less)
4-6 sweet potatoes
2 cloves garlic
2 Tbsp. coconut oil or leftover bacon grease
salt and pepper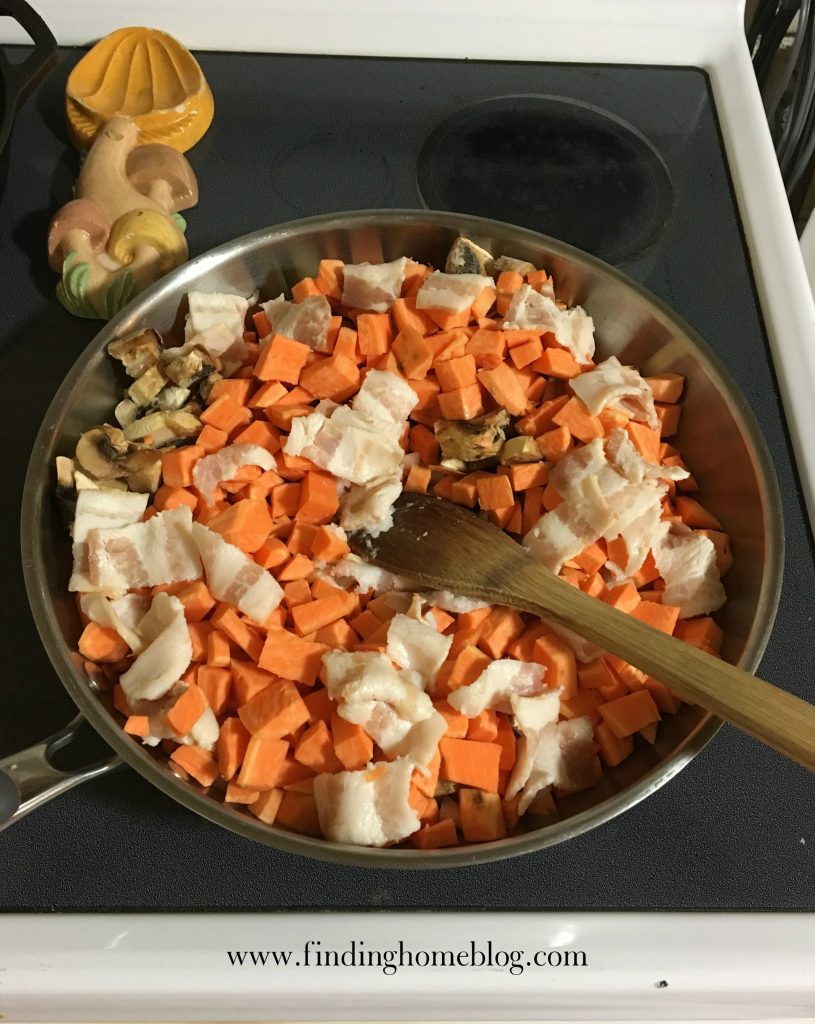 Directions:
Chop all the things!  Chop up the onion and mushrooms (you can do this ahead of time and put them in the freezer), mince the garlic, chop up the sweet potatoes, and cut the bacon into small pieces.
Melt coconut oil in a large skillet over medium heat.  Carefully add all of your ingredients, and stir to coat with coconut oil.  Sprinkle with salt and pepper.  Cover and cook for about 20 minutes, stirring occasionally.  The hash is done when the sweet potatoes are fork tender.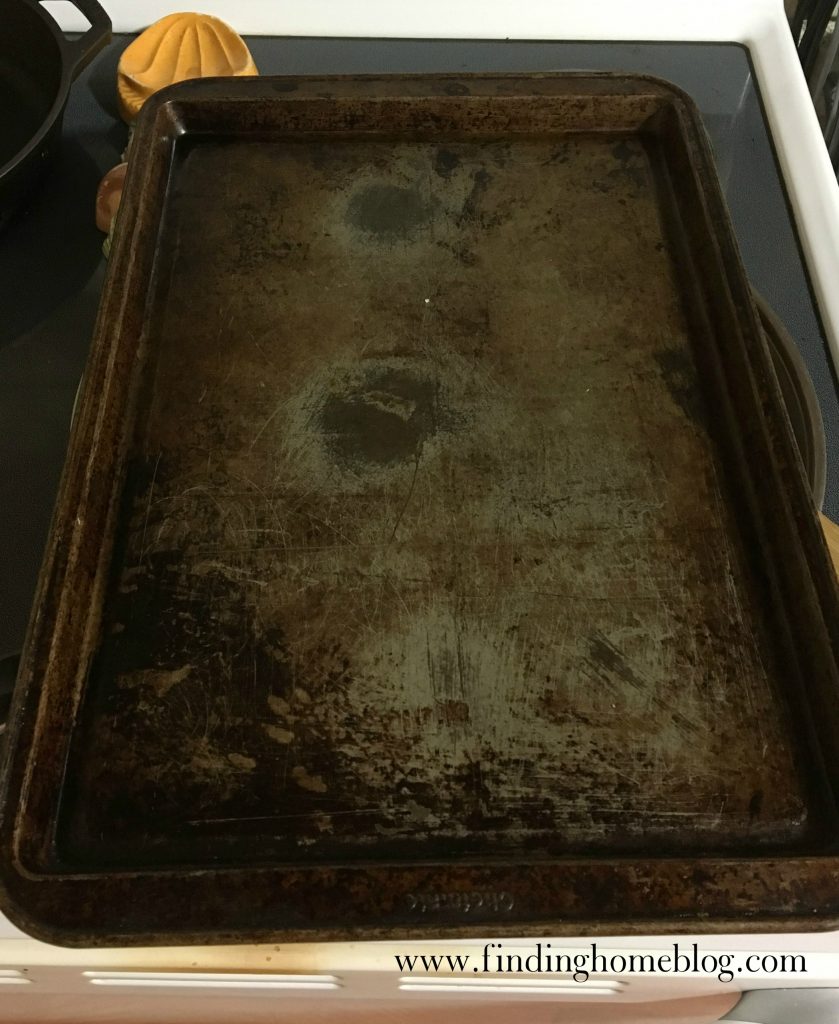 (Note my super cool skillet covering skills)
This breakfast hash would be filling on its own, but my favorite way to serve it is with a few over-easy eggs.  Yolky goodness combined with the sweet of the potatoes and the salty of the bacon?  Yum.  The kids like scrambled eggs, which makes more of a breakfast skillet like you would order in a restaurant.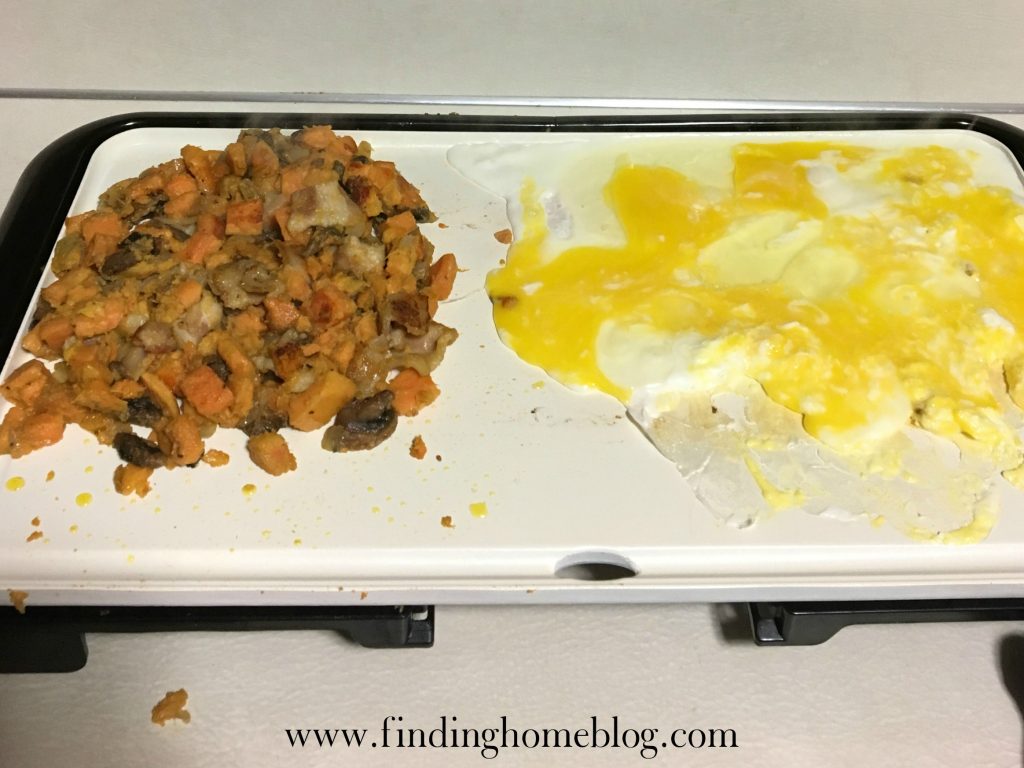 This is one of those recipes that takes a little while to make, so I like to cook up the hash the afternoon before we want to eat it for breakfast.  I cool it and store it in the fridge, and then I just reheat it on our electric griddle as I'm cooking eggs the next morning.  Me and lots of morning prep work don't get along.
You can also change the amounts based on how many people you're feeding.  I use the largest amounts to feed my family of six for two days, along with 10 eggs each day.  Large family living, y'all.  But if you're only feeding two people, you could probably go a lot smaller and still have leftovers.  Adjust as needed!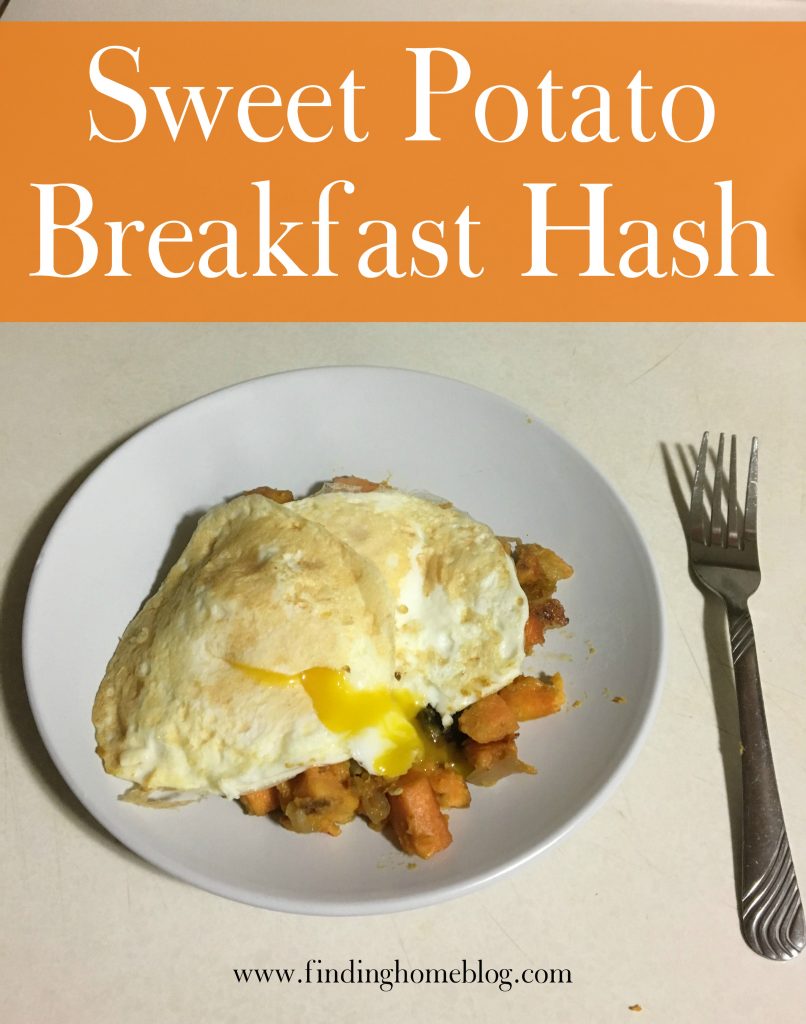 What's your favorite "eggs and something" breakfast?
---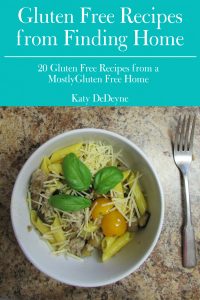 Want more simple, yummy recipes? Sign up below to get 20 recipes for free right now!