I received this product for free from Moms Meet to use and post my honest opinions. Compensation for this post was provided and this page may contain affiliate links. As always, all opinions are my own.
I use a few high quality fats in my recipes, and one I return to quite a bit is extra virgin olive oil.  It has a higher smoke point (400ºF) and is great to sauté pretty much anything, for frying, roasting, or using in salad dressings.
But did you know that not all olive oils are the same?  There are differences in quality, grading, and even different flavors!  I've always just picked up a bottle of whatever I could find at the grocery store, but I'll be paying a bit more attention from now on.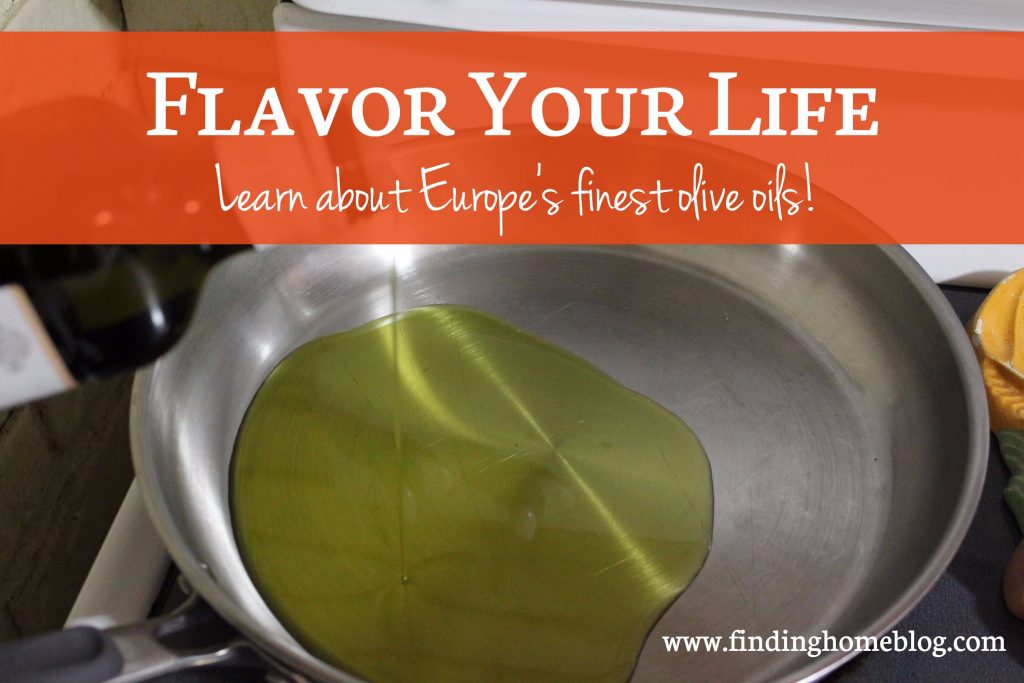 Olive oil comes from the fruit of the European olive plant.  Extra virgin olive oil is made by pressing those olives without heat or chemicals.  It is tested for peroxide levels, which help determine how fresh it is, acidity, and taste.  Only the best olive oils that pass all of these tests get to be labeled "extra virgin".
So why European olive oil?  How about thousands of years of experience cultivating olive groves and optimizing them for their environment?  Some of these olive groves have been around a really long time!
Olive oil's taste comes from the type of olive tree, the region (which affects the climate and soil), and the time of harvest.  European olive oils offer many varieties and flavors, as well as different harvesting times, which makes for great quality oils.
Oils harvested early are more bitter and pungent.
Overripe olives harvested at the end of the season are more mild and buttery.
Golden colored Spanish olive oil can be fruity or nutty.
Dark green Italian olive oil is herbal and grassy.
Greek olive oil is strong and green.
Pale French olive oil is mild.
And those are just a few of the flavor options!  Flavor Your Life, a program supported by the European Union, Unaprol, and the Italian Ministry of Agriculture, seeks to educate U.S. consumers about olive oil so that they can choose the best quality and the most fitting types of oils for the recipes they want to make.  Find Flavor Your Life on Facebook or Twitter.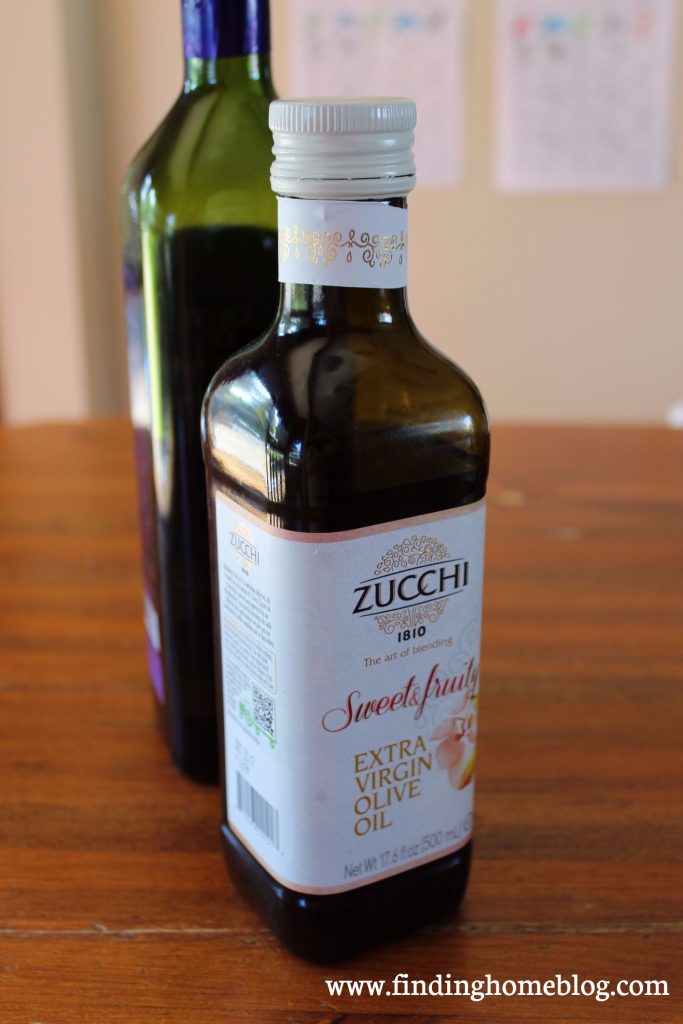 One of Flavor Your Life's partner oils is Zucchi Extra Virgin Olive Oil.  Zucchi is a family-owned business that has been around for 200 years, passed down through seven generations of the Zucchi family.  That's a lot of olive oil knowledge right there! Zucchi sources different oils from local growers and makes artisanal olive oil blends.  One of the really cool things about Zucchi oils is that they each have a QR code, which you can scan to learn more about the oils used in that bottle.  You can learn more about Zucchi here.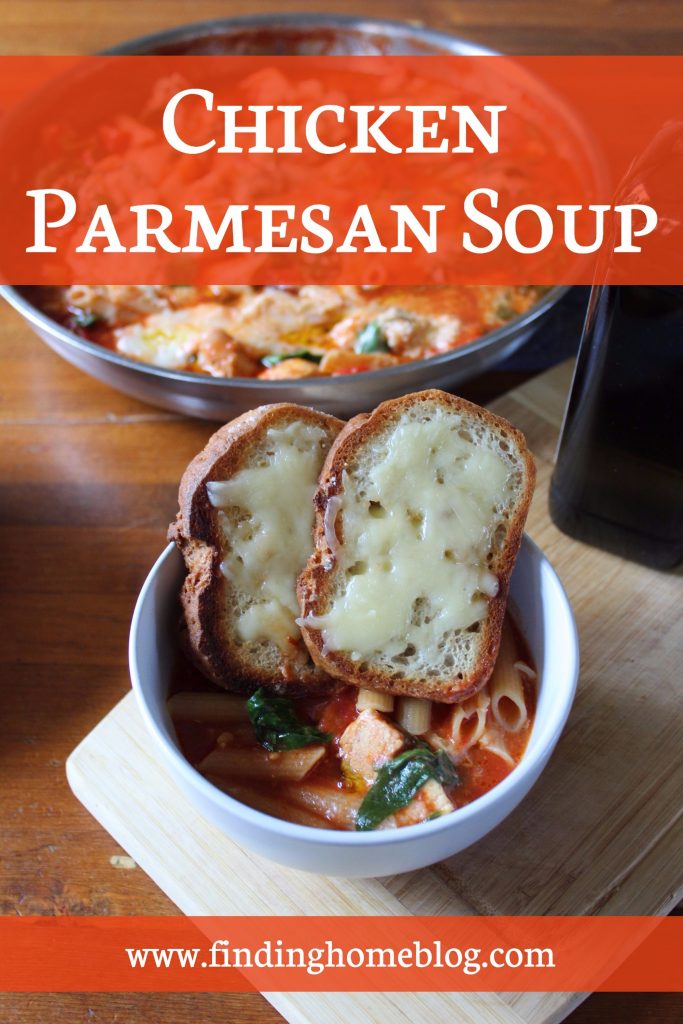 So now that we all know a little bit more about extra virgin olive oil, let's get to cooking!
Chicken Parmesan Soup
(recipe from the Flavor Your Life campaign, shared with permission)
Serves 4
Ingredients:
4 Tbsp. extra virgin olive oil
16 oz. chicken breast, sliced
1 large onion, diced
3 cloves garlic, finely chopped
3 Tbsp. tomato paste
1 tsp. crushed red pepper flakes
15 oz. can diced tomatoes
4 cups chicken broth
1-1/2 cups grated Parmesan cheese
1/2 cup shredded mozzarella cheese
Crusty bread (optional)
Directions:
In a large saucepan, heat the extra virgin olive oil, then add the chicken breast, and cook on low heat.
Add the onion and continue cooking for about 5 more minutes.
Add the garlic and stir for an additional minute.
Stir in the tomato paste and crushed red pepper flakes.  Add the diced tomatoes and chicken broth and bring to a simmer.
Leave to cook on low heat for 20 minutes.
Add the pasta and cook for 5 minutes more, until the pasta is cooked through (mine took closer to 10, but that may have been because it was a thicker gluten free kind).
Just before serving, mix in the Parmesan and mozzarella to melt slightly.  Evenly ladle into bowls and serve with crusty bread.  Swirl with more extra virgin olive oil.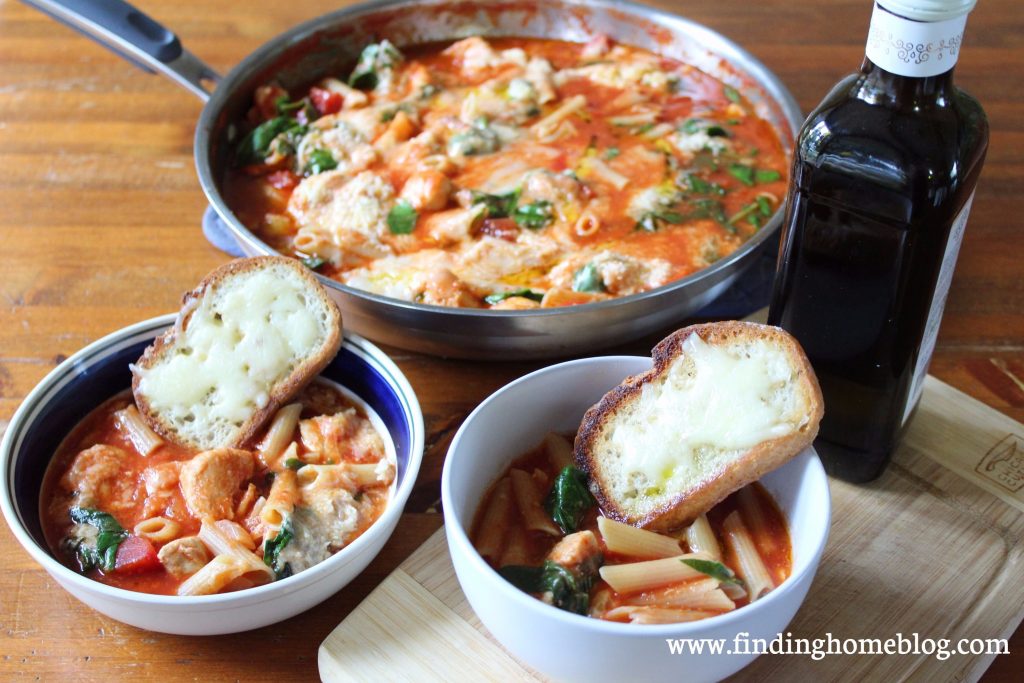 This was such a delicious, hearty bowl of soup that tasted like Italy in a bowl to me.  While summer isn't necessarily when we make a ton of soups, I'll definitely be making this one again.
But for those who want to try some European olive oils right away, how about one of these recipes:
However you decide to use it, take a look at your bottle of olive oil and see if you can find out where it came from.  I don't know about you, but I had no idea there were so many variations of this one pantry staple!