I don't know about where you live, but summer is here in full force at my house.  We've finished our structured schoolwork for the year.  We've switched from soups to salads and sandwiches.  And it is sunny and hot out!  But just because it's summer, it doesn't mean we're taking a break from eating nourishing, real food.  Here are some of my best real food tips for summer.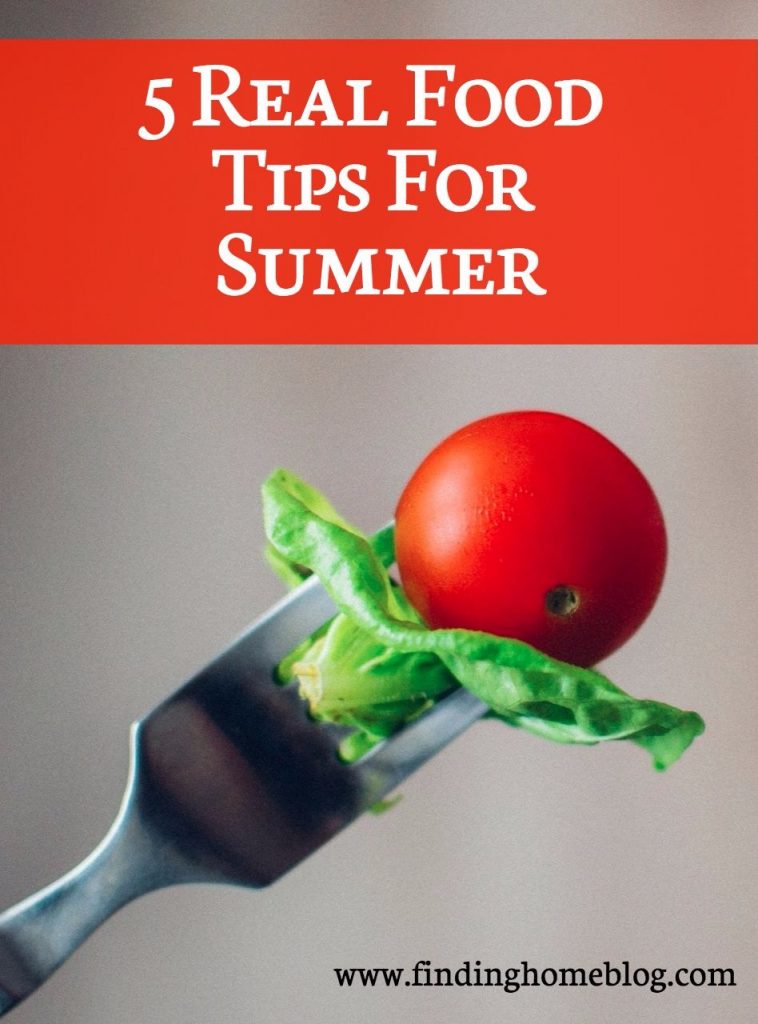 Start with a filling breakfast.  Breakfast is an important start to your day year round, but especially in summer, when your days are full of high energy activities.  Things like chasing around children, hiking, swimming, walks to the park, playing at the beach, baseball, soccer, windsurfing.  Whatever you're doing for fun, chances are it takes more energy than my favorite winter activity of snuggling up under a blanket with a book.
For that energy, you need a filling breakfast with protein.  Protein is what gives your body the energy to keep going.  But that doesn't mean you need to make a full cooked breakfast of eggs and bacon and hashbrowns every day. (Unless, you know, you want to.  It sounds yummy to me!)  How about a simple bowl of oatmeal topped with nuts and/or nut butter?  Or some egg muffins you can make ahead of time?  Breakfast doesn't have to take a lot of time in the morning, but definitely take the few minutes to eat it!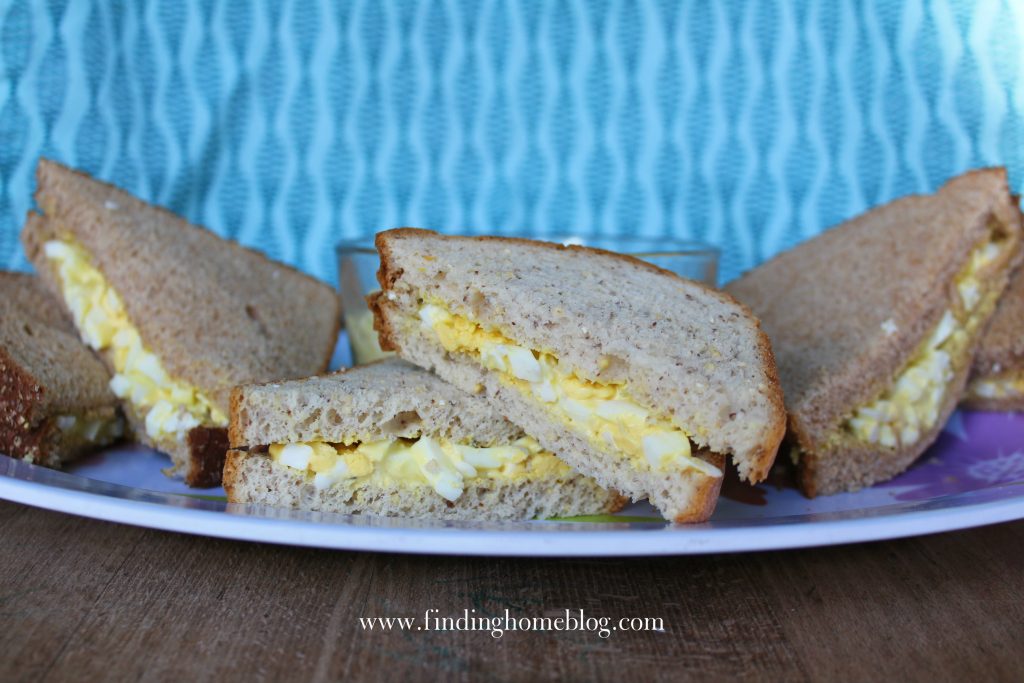 Make easy meals. I don't know why, but I have the tendency to overcomplicate my menu planning.  I start searching for recipes that sound yummy, and fill them into the lunch and dinner boxes on my calendar.  But then, when it comes time to actually make the food, it seems like a lot of work.  Especially lately.  I made the mistake a few weeks ago of planning some fairly complicated, veggie-filled meals that required cooking and prepping multiple times a day.  Guess how many times we had sandwiches or restaurant meals that week? (Four. The answer is four.)
Don't get overly ambitious.  Instead, make easy meals. Some of my favorites include:
Serve any of those with some fruit and veggies or a side salad and you're set.  Boom. Food.
Don't heat up the kitchen (or at least not for long). It's a billion degrees out and your menu plan says you're going to roast meat and veggies in the oven for 45 minutes at 400º.  How likely are you to go to an air-conditioned restaurant instead?
Summer is hot.
Save simmering soups and cooking a whole turkey for fall.  Instead, make quick meals that use one skillet and take less than 30 minutes.
Search Pinterest for one pot meals or homemade hamburger helper meals and you're sure to come up with something quick and easy.
But if turning on the stove is still too much heat for you, how about a crockpot meal?  The crockpot doesn't give off as much heat, and you can always put it in the garage or an extra room (as long as you won't forget about it!).  Or, you can use your crockpot at night.  Lately that's when I've been cooking chicken, veggie broth, and dry beans.  They're ready in the morning for me to dish up and freeze, and I didn't heat up my house in the hottest part of the day!
Speaking of cooking at weird times, there's no rule saying you have to make dinner at 5:00pm.  You can cook the whole meal in the morning when it's cooler, and just reheat at dinner time.  Make your kitchen time work for you!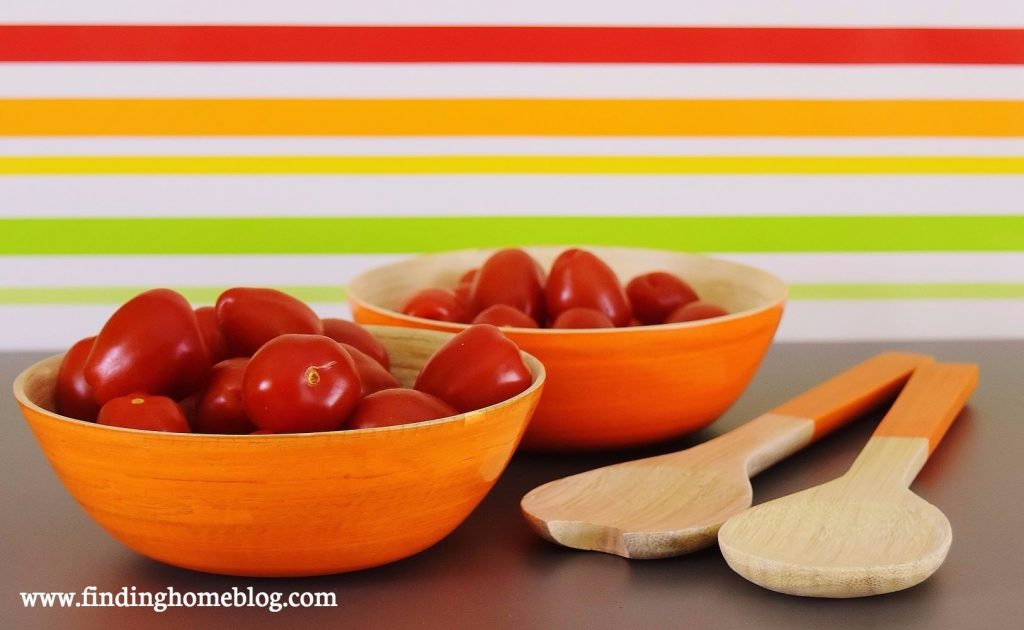 Serve a salad bar. For a long time, my kids whined whenever we had salad for dinner.  Because here's what happened: I gave them each a bowl filled with lettuce, veggies, chicken, cheese, and dressing all mixed together, and I chose what they ate.  Let the complaining begin.
Now, I give them a plate with lettuce and dressing on one side, the protein and cheese in separate piles on the plate, and the rest of the toppings are in bowls on the table.  The only requirement is to pick at least two veggies, and they can choose whether to eat everything separately or mix it together themselves.  Giving them that bit of control over what they eat has done wonders for their willingness to try new veggies.  Or at least eat them without complaining too much.
Salad bar is one of my favorites in the summer, because it's super easy to throw together, and I can cut everything up ahead of time if I want to.  Plus, there's tons of great produce available, from gardens to the Farmers' Market to CSAs to sales at the grocery store.  Everything is super fresh and super yummy.
And there are tons of flavor combinations you can go for.
Southwest: black beans for protein, salsa or Mexi-ranch for a dressing, and veggies like bell peppers, black olives, avocado, corn, onions, tomatoes – pretty much anything you would put on a taco.
Italian: chicken, Italian vinaigrette, mushrooms, broccoli, sundried tomatoes, roasted red peppers, spinach. Reminds me of a chicken Parmesan or a big bowl of spaghetti.
Sweet: chicken, a sweet dressing like the apple poppyseed in this post, craisins, strawberries, blueberries, maybe even some almonds or pecans.
Switch up your dressings, try a new veggie, cook some of the veggies and leave some raw.  You have pretty much endless options, although I'm sure you'll find some favorites.
And if you have a kid who's picky about eating lettuce, here's how we get around that: start with 2-3 pieces of lettuce and a healthy dollop of dressing.  Ranch is king in our house, so the kids will eat pretty much anything with ranch on it.  Each time you have salads, increase the amount of lettuce by a bit, but keep the dressing the same.  They'll get used to eating it, and eventually they'll be ready for a full salad portion.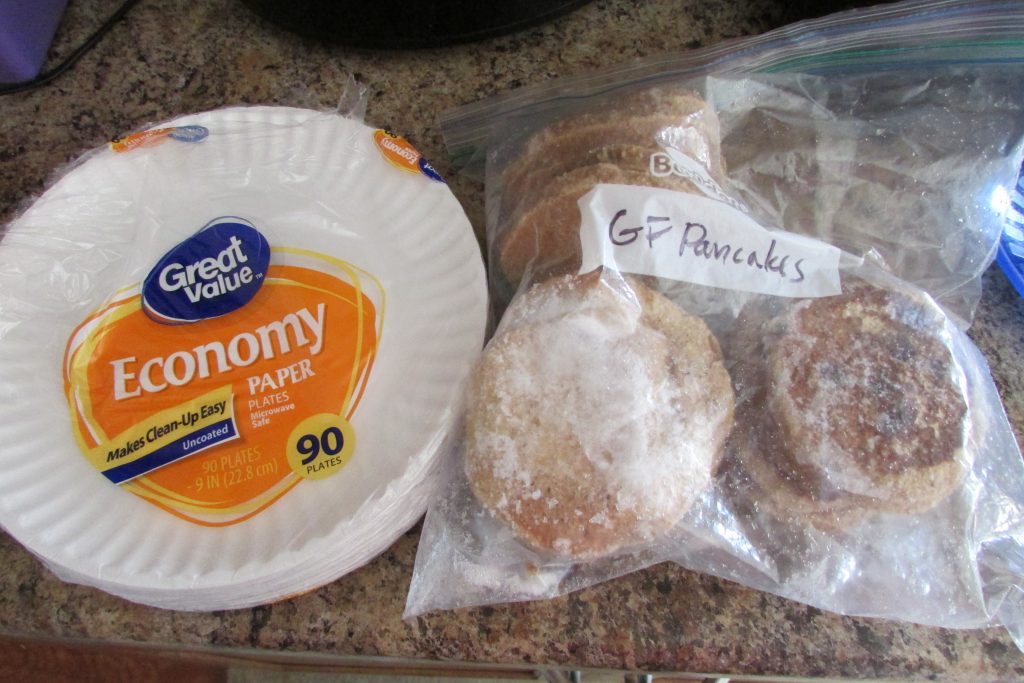 It's okay to take shortcuts sometimes. I constantly need this reminder.  Like the week we ate sandwiches and takeout 4 times, I need to remember that it's better to pay a little bit more for precut veggies than to give up on veggies completely and order pizza.  Or it's better to use paper plates and kill the environment a bit than to be less than kind to family members and snap at them because "I spend all night cleaning up after you! Can't you help a bit?"
Your shortcuts are going to look different than mine, but please take them.  Give yourself some grace.  In an ideal world, everything we eat would be local, organic, made from scratch, the best of the best quality.  But in the real world, we try our best most of the time and that's good enough.  If I put pressure on myself to make every single thing for as cheap as possible, I burn out and we end up worse than if I had just taken it easier on myself.
Maybe you have soccer camp every Friday all afternoon so Friday is pizza night.  Maybe you plan meals for most of the week, but Saturday lunch is leftovers or "raid the cupboards to find something because Mom's not cooking".  Maybe you buy the pre-cut veggie tray and the already assembled fruit salad because at least then you know your kids will get some form of produce before the day is done.  Totally cool.
There's a quote that I see every so often, usually applied to motherhood, but I think it also applies here: The mom who worries that she's not good enough doesn't need to worry about it.  Or something like that.  I'm paraphrasing here.  Basically, if you're concerned enough to notice whether or not your kids are eating well, and that your family is getting enough green foods and drinking enough water, if you take the time to notice these things, you're doing fine.
You're doing a great job.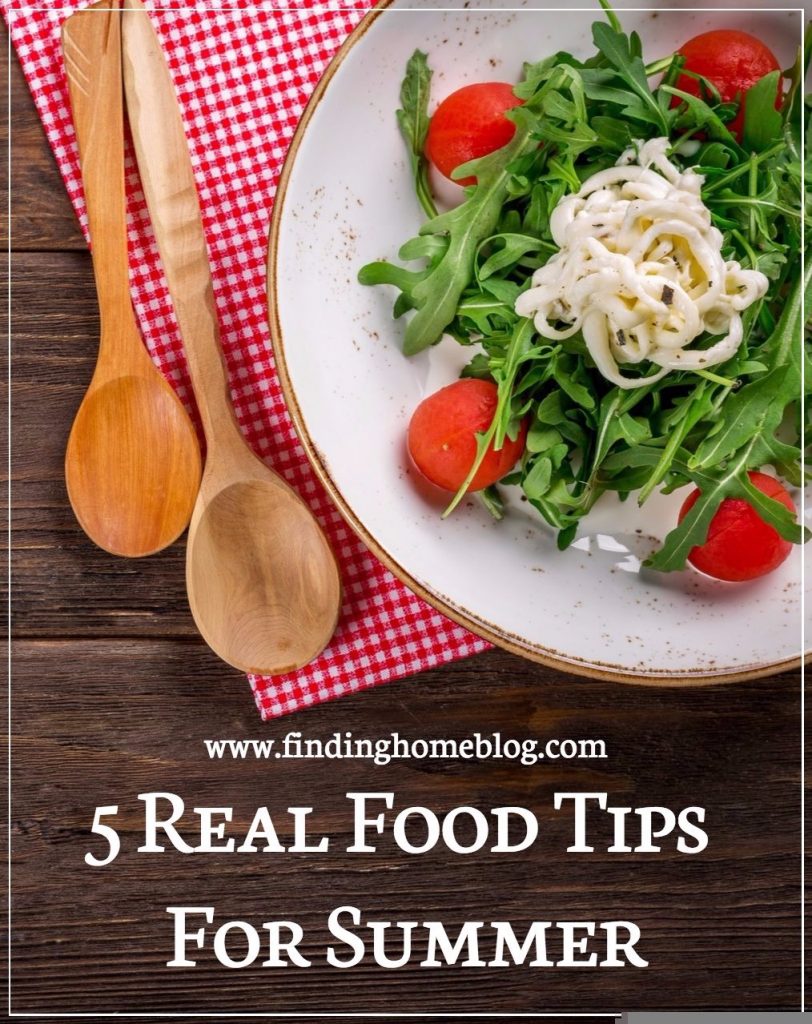 If you're a video person, I also did a Facebook Live of these tips last week in one of my favorite Facebook groups.  You can watch that below (if you're reading in a feed reader you may need to click over to the actual post to watch).
Which of these summer real food tips are you going to work on first?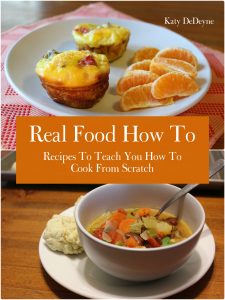 Looking for more easy real food inspiration?  Check out Real Food How To: Recipes To Teach You How To Cook From Scratch.  Inside you'll learn 20 simple cooking skills, with recipes to practice each one.  And they're all simple, delicious foods made from ingredients you likely already have in your house. Make real food, from scratch.
Disclosure: Some of the links in this post are affiliate links.  If you make a purchase through these links, I receive a bit of a commission at no additional charge to you.  Thank you for your support!