Whether you're packing lunches to go to school or work, or you're just trying to fit in another meal amidst homeschooling and life, chances are you want lunch to be quick and easy.  And while I wouldn't mind serving my kids "snacky lunch" almost every day, sometimes they need more than just bits and pieces of whatever I can find.  Then it's time for these easy lunches for at home (or on the go).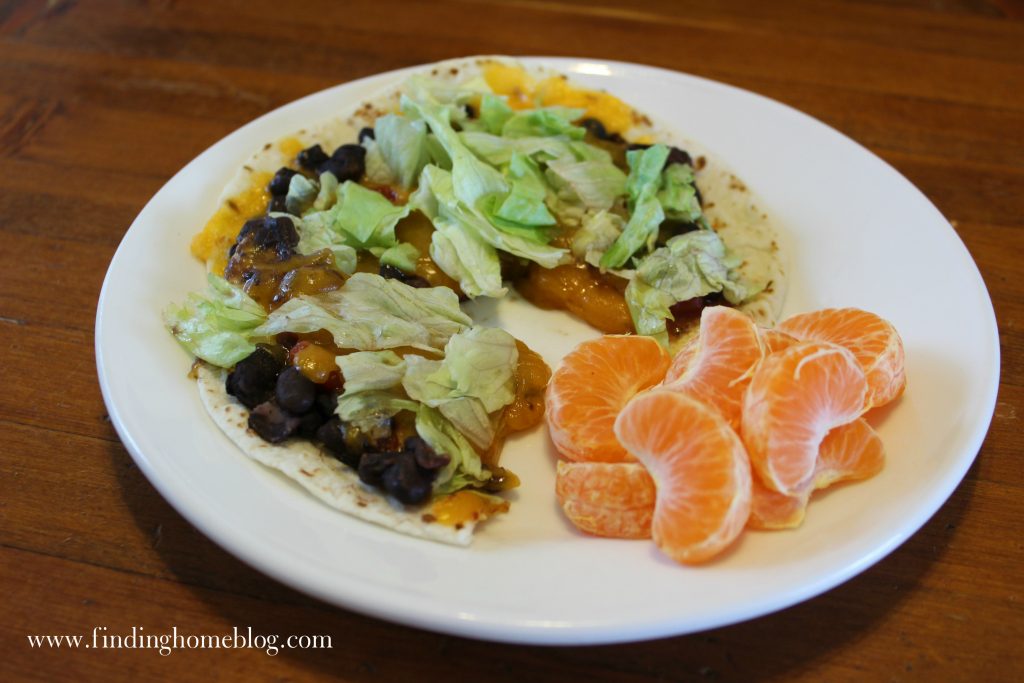 Tortilla Meals
Easy Apple Quesadillas. If you've never had the apples-and-cheddar combination, stop what you're doing and try them together.  They're delicious!
Chicken Quesadillas from Andrea Dekker. I like that these have a little more to them than just chicken and cheese. I will sometimes prepare the filling ahead of time, and then just assemble the quesadillas right before cooking.
Black Bean Tortilla Pizzas (pictured above). I almost always have some cooked black beans on hand (they're super easy in the Instant Pot!), so it's not too much trouble to shred some cheese and put these together.
PB&J Tortillas. Think a PB&J sandwich, but using a tortilla instead of bread.  I have a couple kids who prefer these over the actual sandwich.
Turkey and Cheese Pinwheels from Money Saving Mom. I made these and discovered one of my kids doesn't like cream cheese, but I think they're pretty tasty. And you can make them ahead of time!
Chicken and Cheese Tostadas from 100 Days of Real Food. Crispy tortilla topped with chicken and melty cheese? Yes please.
BLT Quesadilla Wraps from Tasty Kitchen. Do you like BLTs? Do you like quesadillas? Put the two of them together and you've got this lunch.  Prep goes fast if you've got extra cooked bacon in the fridge.
Make Ahead Lunch Wraps from Living Well Spending Less. Turkey, hummus, and veggies are a yummy combination, and as the name states, you can get these ready ahead of time.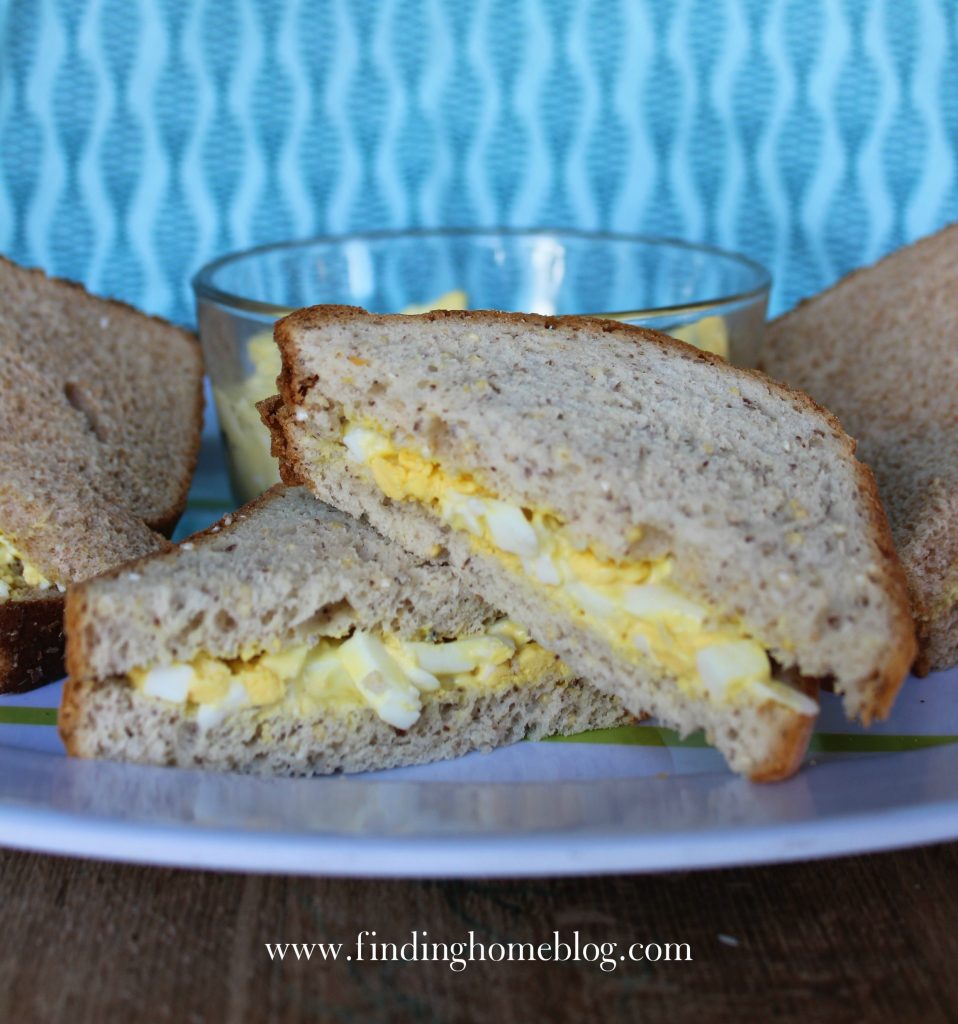 Sandwiches
Grilled Cheese.  Whether you like plain grilled cheese with some tomato soup, or you like to add extra toppings, grilled cheese only takes a few minutes.  We had one leftover portion of chicken fajitas that I added once, and that was delicious!
PB&J. Even though it's so simple, this classic is a favorite for my kids.
Egg Salad (pictured above). Hard boiling eggs is really easy, and you can make the egg salad ahead of time.
Cold Cubanos. You may have to buy a few additional ingredients for this one, but it's super delicious, and they don't take long to put together.
Pizza Sammies from Andrea Dekker. Put your favorite pizza toppings on some bread with lots of cheese and toast it up. Bonus – everyone can customize their own!
Cranberry Mayo Turkey Melt. This is really tasty right after Thanksgiving, but it's also awesome year-round.
Marilyn Monroe Paninis from Plain Chicken. It's kind of like pizza, kind of like stuffed chicken, but on a sandwich.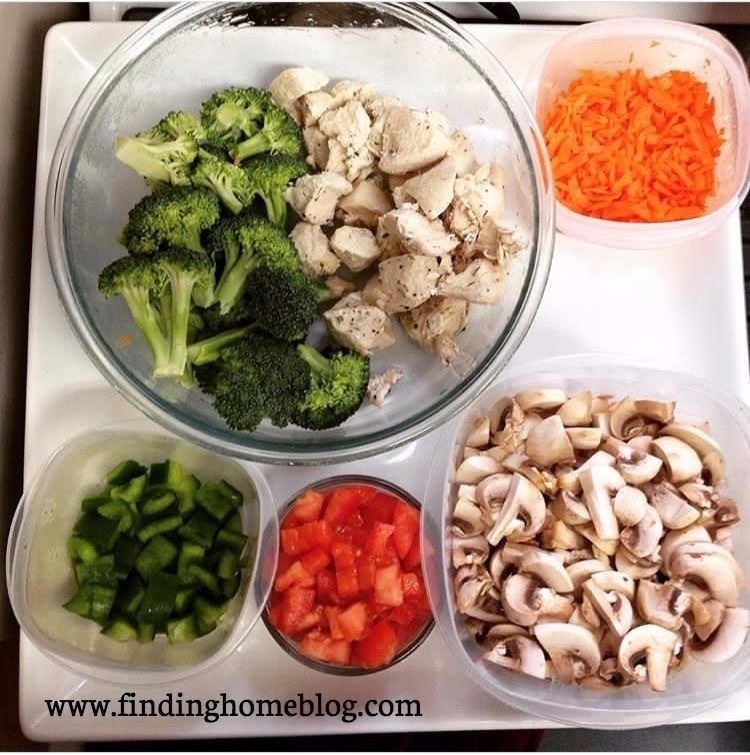 Salads and Pasta Salads
Italian Spaghetti Salad from Lynn's Kitchen Adventures. Just use gluten free spaghetti for this take on the original Italian pasta salad.
Strawberry Spinach Pasta Salad from Le Creme de la Crumb. If you like fruity salads, you'll probably like this one.
Sweet Kale Salad from Don't Waste The Crumbs. This is a homemade version of my favorite "salad kit" mix that they sell at the store. You can get everything ready ahead of time, and then just assemble it at lunchtime.
Apple Bacon Pecan Salad from Andrea Dekker. Never mind the actual greens that make this a salad – this has pretty much all of my favorite salad toppings in it, from bacon to pecans to feta cheese.
Cabbage Slaw with Apples and Almonds from Good Cheap Eats. Can you tell I like most of my salads to have a hint of sweet to them? This one is no exception. Great to prepare ahead of time too.
Tex Mex Chicken Chopped Salad from Life in the Lofthouse. The addition of taco seasonings to the ranch dressing takes this from a generic southwest salad to something extra yummy.
Salad Bar (pictured above). We do this fairly often – everyone gets a plate with some greens, the protein of choice (usually chicken), and cheese, and then gets to pick at least 2 of the veggies to round out their salad.  Choices make kids happy.
I have to mention that my absolute favorite pasta salad is the Tangy Pasta Salad from the cookbook 100 Days of Real Food: Fast and Fabulous.  Definitely a favorite for making ahead for lunches!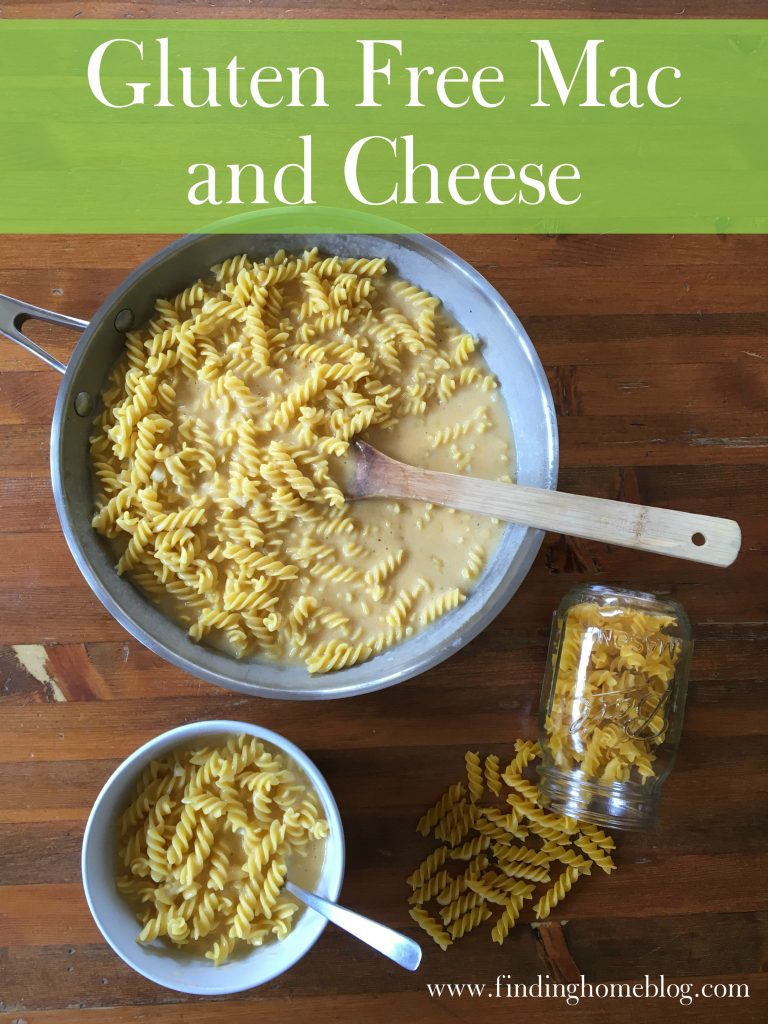 Hot But Easy to Cook Meals
Gluten Free Mac and Cheese. I once made a boxed mac and cheese at the same time as making this one, just to see if the box would save time. It didn't. Because either way, you have to cook the pasta, and by the time that's done, your sauce is done too.
Chicken Pepper Bake. This one takes awhile in the oven, but if you're at home, it's worth mentioning, because it only takes a few minutes to chop up your ingredients, and the rest of the time is hands off.
Pizza Crackers from Humorous Homemaking. This one won't necessarily be gluten free, unless you can find gluten free saltine crackers, but if that's not an issue for you, these are super easy and fun to eat.
And as always, don't forget the crockpot and Instant Pot meals that you can get going before your day gets started, and eat at meal time. I love being able to do that, especially with soups in the winter time!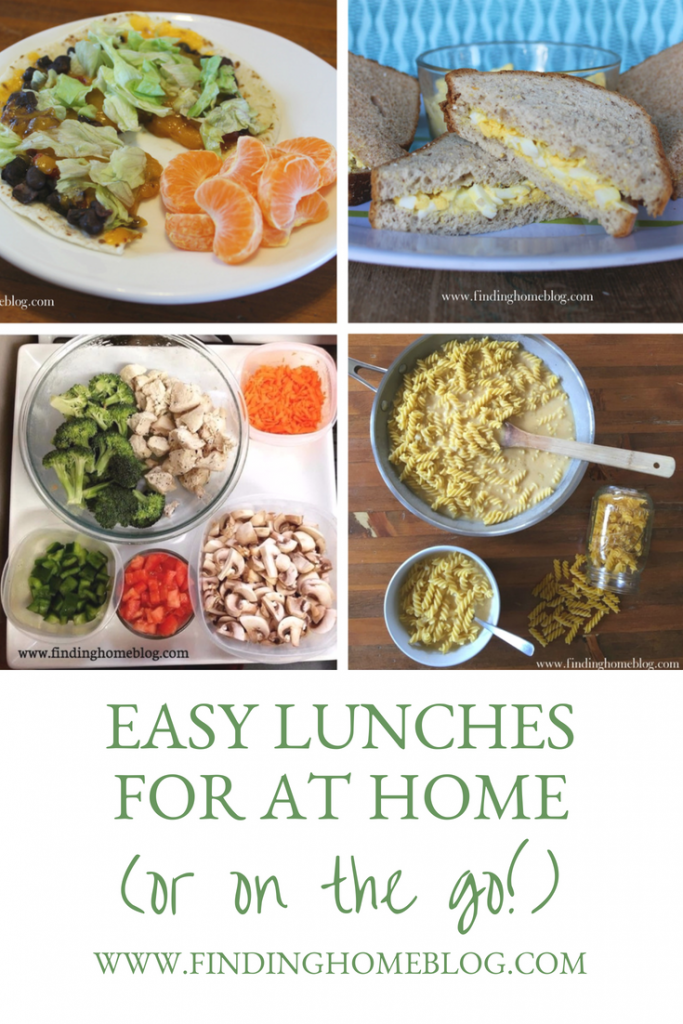 What's your favorite easy lunch?